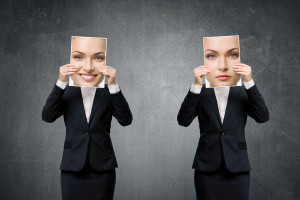 How well do the leaders in your organization express their emotions? What about you? Do you appropriately articulate your feelings? Do you use emotional expressiveness to persuade and inspire others?
"Great leaders move us. They ignite our passion and inspire the best in us. When we try to explain why they are so effective, we speak of strategy, vision or powerful ideas. But the reality is much more primal. Great leadership works through the emotions." ~ Daniel Goleman, Richard Boyatzis and Annie McKee, Primal Leadership (Harvard Business Review Press, 2013)
Leaders are responsible for their organizations' energy levels. While research has demonstrated a strong link among excitement, commitment and business results, many leaders stumble at emotional expressiveness.
They hesitate to express both positive and negative emotions in an effort to maintain credibility, authority and gravitas. Consequently, they're losing one of the best tools for achieving impact.
This article explores the research and myths about leaders and emotional expressiveness, and offers three guidelines for developing leadership expressiveness that inspires others, influences change and drives business results. 
 ————————————————————————————
This is a brief synopsis of a 1,500-word and a 900-word article and 5 Article Nuggets*, suitable for consultants' newsletters for executives and leaders in organizations. It is available for purchase with full reprint rights, which means you may put your name on it and use it in your newsletters, blogs or other marketing materials. You may also modify it and add your personal experiences and perspectives.
The complete article includes these important concepts:
Emotional Intelligence
Myths about Emotions
Does Your Head Overrule Your Heart?
Bad News for Buttoned-Up Leaders
3 Basic Techniques:  

Generate Excitement
Put Nonverbal Cues to Work
Find and Express a Passionate Purpose
————————————————————————————
Request This Content:
Send us an email and let us know if you'd like to receive this article, Article Nuggets* or Newsletter (as applicable.) It is available in the following formats:
Emotional Expressiveness –1,500-word Article with Full Reprint Rights, $79
Emotional Expressiveness – 900-word article with Full Reprint Rights, $57
Emotional Expressiveness -5-Article Nuggets* with Full Reprint Rights,  $89

*Article Nuggets: The same article broken up into 5 blog-style sections suitable for a series of blog posts or shorter newsletter articles.