How to (Finally!) Start Your Leadership Blog…
Now has never been a better time to get your leadership blog started.
It does not need to be complicated, or expensive to do. But your blog does have to be high quality. You want your leadership blog to reflect the quality of your professional services. You want it to attract people to you so they will eventually hire you.
What we've learned is that clarifying the topic and keeping that in mind as you write each post is critical.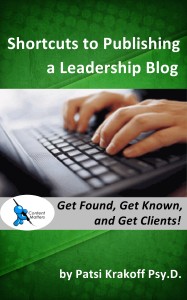 We've created a free document to help you.
Included are 10 questions to answer before you write a single word of your leadership blog.
You'll get clarity and focus, and hopefully, unleash the muse!
Let us send you a special guide:
Blog Writing & Management Services
"Did you know that HubSpot customers who write just 3-4 blog posts per month get 20 more monthly lead submissions, 800 more monthly site visits, 60 more Twitter followers, and 50 more Facebook like's than customers who only write 2 blog posts per month? That's a HUGE difference."

If you need a ghost writer to supplement your blogging, please email or call us to discuss these services.
1. Basic Blogging Services: $397/month includes 1 post per week or 4 per month.
Your content or ours.  Each post is formatted, linked, search optimized and photo added. Information from books & articles, topics are primarily leadership & personal development. Posts are approximately 300 – 400 words long.

2. Premium Blogging Services: $597/month includes 1-2 posts a week, or 6 per month.  Your content or ours.  Each post includes formatting, linking, search optimization, and photo illustration. Posts are approximately 350-500 words long.

3. Blog Content Marketing & Social Media Services: $850/month includes up to 8 posts per month.  Includes writing, posting with linking, search optimization, photos and social media updates  (Twitter, Facebook & LinkedIn). Oversight of content marketing strategy and results.
(c) 2005, 2016. Authorize.Net is a registered trademark of CyberSource Corporation