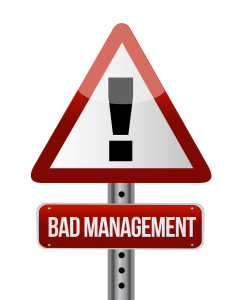 Are you part of the under management epidemic, or are you a truly engaged manager?
A recent survey reports 9 out of 10 managers are providing insufficient oversight—a problem that consultant Bruce Tulgan calls the "under-management epidemic."
Ten years ago, research from Rainmaker Thinking, Inc., confirmed an epidemic of workplace under-management. The firm's ongoing study reveals that under-managing remains rampant. A full 90% of all leaders and managers do not provide direct reports with sufficient guidance, support and coaching.
Under-managing occurs when leaders with supervisory authority fail to regularly and consistently provide employees with five vital management basics:
Clear statements of broad performance requirements and specific expectations
Support and guidance regarding resources necessary to meet requirements and expectations
Accurate monitoring, measurement and documentation of individuals' actual performance
Regular candid feedback about actual performance
Rewards and penalties distributed in proportion to actual performance
What makes the problem worse is that most managers are unaware of their deficient administration:
Fifty percent think they're doing an "excellent" or "very good" job of managing direct reports.
Twenty percent believe they're doing a "reasonably good" job.
Nearly 50% fail to provide all of the management basics to every direct report even once a year.
This article explores research on under-management and suggests specific steps for highly structured, high-substance conversations that boost productivity and overall quality.
This is a brief synopsis of a 1,500-word and a 900-word article and 5 Article Nuggets*, suitable for consultants' newsletters for executives and leaders in organizations. It is available for purchase with full reprint rights, which means you may put your name on it and use it in your newsletters, blogs or other marketing materials. You may also modify it and add your personal experiences and perspectives.
The complete article includes these important concepts:
The Under Management Epidemic
Costs and Causes
Cure for Under-Management
Energy and Time Drains
"High Structure"/"Substance" Conversations
————————————————————————————
If you are a Content for Coaches client and your account is current, no need to order. Send me an email to confirm that you wish to receive this article, Article Nuggets* or Newsletter (as applicable.)
All others please use the order links below.
Order Links to purchase this article:
The Under-Management Epidemic – 1,500-word Article with Full Reprint Rights, $79


The Under-Management Epidemic – 900-word article with Full Reprint Rights, $57

The Under-Management Epidemic – 5-Article Nuggets* with Full Reprint Rights,  $89

*Article Nuggets: The same article broken up into 5 blog-style sections suitable for a series of blog posts or shorter newsletter articles.
Article by Patsi Krakoff, Psy.D.
Subscriptions of 6 and 12 articles are available. Save up to 45%. View options here.