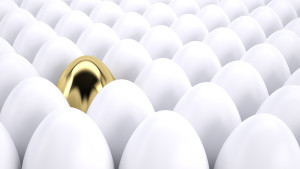 Authenticity has become the gold standard for leadership. But a simplistic understanding of what it means can hinder your growth and limit your impact. ~ Herminia Ibarra, The Authenticity Paradox, Harvard Business Review, January 2015
Employees at all organizational levels seek meaning and fulfillment at work. Most are willing to work hard for authentic, trustworthy leaders.
People are not easily fooled or quick to offer their loyalty, which explains why inauthentic leaders struggle to hire and retain exceptional staffers. Unmotivated direct reports often "phone it in" each day.
Authentic leaders have mastered three key skills: clear vision, formulating sound strategies and finding approaches that inspire others to act. To join this elite club, you must align people around a common purpose and set of values. As they perform at peak levels, they'll know precisely what's expected of them.
It helps to be fluent in more than one leadership style (i.e., authoritative, democratic, collaborative or coaching), flexibly applying the most appropriate one as situations dictate. No style will be effective, however, if you're inauthentic.
There's no shortage of authenticity training for executives. Since 2008, the number of articles on this topic has almost doubled in the business press, including The Wall Street Journal, Forbes, The Economist and the Harvard Business Review.
While virtually every leader has a sense of what "authenticity" means, few know how to develop it as a skill. To complicate matters, being authentic in today's rapidly evolving global marketplace has its share of challenges.
Ultimately, superior results over a sustained period make for an authentic leader. It may be possible to drive short-term outcomes without being authentic, but authentic leadership is the only way we know to create sustainable long-term results.
This article explores research on authentic leadership and offers specific steps to develop authenticity skills for sustainable long-term results.
This is a brief synopsis of a 1,600-word and a 900-word article and 5 Article Nuggets*, suitable for consultants' newsletters for executives and leaders in organizations. It is available for purchase with full reprint rights, which means you may put your name on it and use it in your newsletters, blogs or other marketing materials. You may also modify it and add your personal experiences and perspectives.
The complete article includes these important concepts:
Three Problems with Authenticity
In Search of Leaders' True Selves
The Authentic Profile
Self-Awareness by Framing Your Life Stories
Practice Your Values and Principles
Balance Your Extrinsic and Intrinsic Motivations
Build Your Support Team
Develop as an Authentic Leader
————————————————————————————
Request This Content:
Send us an email and let us know if you'd like to receive this article, Article Nuggets* or Newsletter (as applicable.) It is available in the following formats:
In Search of Authentic Leaders – 1,600-word Article with Full Reprint Rights, $79

In Search of Authentic Leaders – 900-word article with Full Reprint Rights, $57

In Search of Authentic Leaders – 5-Article Nuggets* with Full Reprint Rights,  $89
*Article Nuggets: The same article broken up into 5 blog-style sections suitable for a series of blog posts or shorter newsletter articles.