"If you don't design your own life plan, chances are you'll fall into someone else's plan. And guess what they have planned for you? Not much." ~ Business philosopher Jim Rohn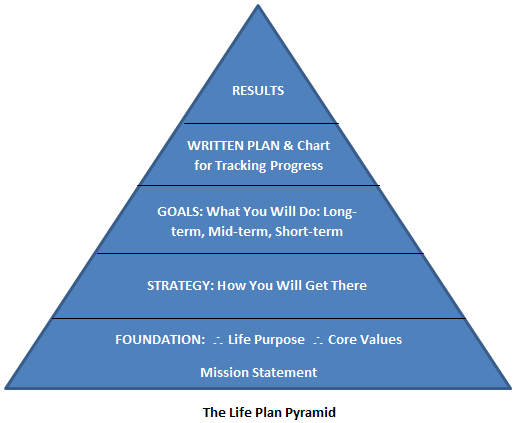 Do you have a life plan?
John Lennon once said, "Life is something that happens to you when you're busy making other plans." Of course, you can listen to Woody Allen, who famously said: "Half of life is just showing up."
Per this philosophy, you get ahead simply by being present — a concept that certainly relieves a lot of pressure. It allows you to live in the moment, responding to what is rather than trying to shape your life. It also requires a hefty dose of passivity and abandonment of future possibilities. (Let it be, to quote John Lennon.)
But most of us want to influence the path our life takes to ensure we have enough freedom to express our strengths and talents. We want to control our own destiny when planning for our careers, partnerships and families.
This article suggests using a classic business planning model adapted for personal use, and suggests 7-steps for implementation. 
____________________________________________________
This is a brief synopsis of a 740-word article and Article Nuggets*, suitable for consultants' newsletters for executives and leaders in organizations. It is available for purchase with full reprint rights, which means you may put your name on it and use it in your newsletters, blogs or other marketing materials. You may also modify it and add your personal experiences and perspectives.
The complete article includes these important concepts:
Why Plan Your Life?
Craft a Personal Mission Statement
7 Steps to Plan Your Life
————————————————————————————
Request This Content:
Send us an email and let us know if you'd like to receive this article, Article Nuggets* or Newsletter (as applicable.) It is available in the following formats:
1.  How to Plan a Life – 740-word Article with Full Reprint Rights, $57–
2.  How to Plan a Life–  3-Article Nuggets* with Full Reprint Rights,  $64 –
*Article Nuggets: The same article broken up into 3-5 blog-style sections suitable for a series of blog posts or shorter newsletter articles.