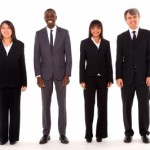 Do you work for a genius? Are your organization's leaders really smart, and do they focus on bringing out the best in other people?
Some corporations have made hiring the most intelligent individuals a core strategy on the basis that smarter people can solve problems more quickly than the competition. But that only works if the organizations can access that intelligence. ~ Stephen R. Covey
According to surveys on engagement, most workers have greater capabilities, creativity, talent, initiative and resourcefulness than their jobs allow—or even require—them to use. (photo courtesy freedigitalphotos.net)
Other surveys reveal that most workers feel pressured to produce more with less.
These results are paradoxical: People are underutilized and overworked at the same time.
Fortunately, some leaders understand how to create genius within their teams: They bring out the best in people. They're "genius-makers."
Many bosses, however, seem to excel at draining people of their intelligence and abilities. What is the difference between the geniuses and the genius-makers?
Leadership consultants Liz Wiseman and Greg McKeown explore this question in Multipliers: How the Best Leaders Make Everyone Smarter (HarperBusiness, 2010). The authors divide leaders into two camps, based on the results they achieve: multipliers or diminishers.
Leaders are likely to act on one of two extreme beliefs:
Diminishing leaders believe their people will never be able to figure things out without explanation from a leader who provides all the answers.
Multiplying leaders believe their people are smart and can come up with solutions on their own.
Leadership results are astonishingly better for those leaders who are "multipliers."
This article explores 5 typically ineffective leaders, and suggests 5 disciplines which can bring out the best in people and multiply leadership results.
__________________________________________________________
This is a brief synopsis of a 1,600-word article and Article Nuggets,*suitable for consultants' newsletters for executives and leaders in organizations. It is available for purchase with full reprint rights, which means you may put your name on it and use it in your newsletters, blogs or other marketing materials. You may also modify it and add your personal experiences and perspectives.
The complete article includes these important concepts:
Producing More with Less
The Mindset of Effective Leaders
5 Ways Leaders Diminish Others
The 5 Disciplines of Genius-Makers
Working for a Genius-Maker
Becoming a Genius-Maker
The Diminisher-to-Multiplier Performance Continuum
 ————————————————————————————
Request This Content:
Send us an email and let us know if you'd like to receive this article, Article Nuggets* or Newsletter (as applicable.) It is available in the following formats:
a.    Genius or Genius Maker? – 1,600-word Article with Full Reprint Rights, $79 –

b.    Genius or Genius Maker?  – 916-word Article with Full Reprint Rights, $57 –
c.    Genius or Genius Maker?  – 5-Article Nuggets* with Full Reprint Rights, $89 –
*Article Nuggets: The same article broken up into 3-5 blog-style sections suitable for a series of blog posts or shorter newsletter articles.