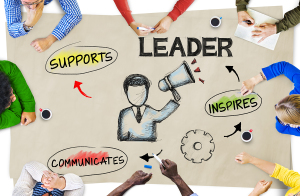 Whether you call it charisma, confidence or compelling leadership, executive presence is the new corporate "it" factor.
We're talking about more than making a great first impression. Presence is multifaceted, builds over time, and is reflected in everything you say, feel and do.
In today's competitive business environment, executive presence can make or break your ability to influence others during periods of uncertainty and change. It encourages people to seek you out and opens doors.
The concept of presence is nebulous for most people, but we all have it to a degree—and we know it when we see it in others. But most of us are unsure of how to increase our presence and develop it in others. Many people assume it's about showmanship, charm, unabashed confidence and smooth speaking skills, but this only scratches the surface.
"For us, presence is the ability to connect authentically with the thoughts and feelings of others, in order to motivate and inspire them toward a desired outcome." ~ Lubar and Halpern, Leadership Presence: Dramatic Techniques to Reach Out, Motivate and Inspire
This article explores the importance of executive presence, and suggests how leaders can improve presence, build trust, and lead with intention, connection and inspiration.
 ————————————————————————————
This is a brief synopsis of a 1,500-word and a 900-word article and 5 Article Nuggets*, suitable for consultants' newsletters for executives and leaders in organizations. It is available for purchase with full reprint rights, which means you may put your name on it and use it in your newsletters, blogs or other marketing materials. You may also modify it and add your personal experiences and perspectives.
The complete article includes these important concepts:
The New Success Factor
Specific Criteria
An Inside Job
Intention, Connection, Inspiration
The PRES Model of Leadership Presence
————————————————————————————
Request This Content:
Send us an email and let us know if you'd like to receive this article, Article Nuggets* or Newsletter (as applicable.) It is available in the following formats:
Executive Presence: Lead with Intention, Connection, and Inspiration – 1,500-word Article with Full Reprint Rights, $79
Executive Presence: Lead with Intention, Connection, and Inspiration – 900-word article with Full Reprint Rights, $57
Executive Presence: Lead with Intention, Connection, and Inspiration – 5-Article Nuggets* with Full Reprint Rights,  $89
*Article Nuggets: The same article broken up into 5 blog-style sections suitable for a series of blog posts or shorter newsletter articles.