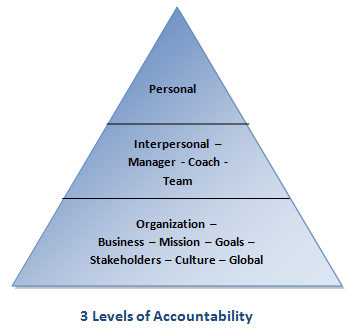 Is accountability becoming even more important in 21st Century business? In an age of ubiquitous social media and cell-phone videos, Big Brother's watchful eyes seem to loom large.
Rudeness, politically incorrect slips of the tongue and outrageous conduct are digitally captured and immediately shared on YouTube and gossipy websites. Politicians, celebrities, sports heroes and even average Joes are caught in the act and publicly shamed for bad behavior.
"Accountability should be the strongest thread that runs through the complex fabric of any organization. It is the single biggest issue confronting organizations today, particularly those engaged in enterprise-wide change efforts." ~ CEOs Roger Connors and Tom Smith, Change the Culture, Change the Game: The Breakthrough Strategy for Energizing Your Organization and Creating Accountability for Results (Portfolio Hardcover, 2011)
Today's business leaders are increasingly aware of the public's intolerance of greed, elitism and privileged excess.
Leaders know that one careless customer experience can easily go viral, ruining corporate reputations and wrecking careers. They must be transparent, conscientious and responsible to their global constituents because employees, customers and the community at large hold them to the highest standards.
Each of us requires a thorough understanding of accountability's role in our daily work lives.
This article examines 3 levels of responsibility, provides a feedback support/challenge matrix, and encourages high accountability for teams.
__________________________________________________________
This is a brief synopsis of a 1,575-word and an 880-word article and Article Nuggets,*suitable for consultants' newsletters for executives and leaders in organizations. It is available for purchase with full reprint rights, which means you may put your name on it and use it in your newsletters, blogs or other marketing materials. You may also modify it and add your personal experiences and perspectives.
The complete article includes these important concepts:
Redefining accountability
Transparency and engagement
Three levels of accountability

Personal
Interpersonal
Organizational

Effective feedback

Feedback support/challenge matrix
Team accountability and feedback
 ————————————————————————————
If you are a Content for Coaches client and your account is current, no need to order. Send me an email to confirm that you wish to use this article for your next newsletter.
All others please use the order links below.
Order Links to purchase this article:
1.  Accountability Essentials – 1575-word Article with Full Reprint Rights, $79–

2.  Accountability Essentials – 900-word article with Full Reprint Rights, $57 –


3.  Accountability Essentials – 5-Article Nuggets* with Full Reprint Rights,  $89 –

*Article Nuggets: The same article broken up into 3-5 blog-style sections suitable for a series of blog posts or shorter newsletter articles.