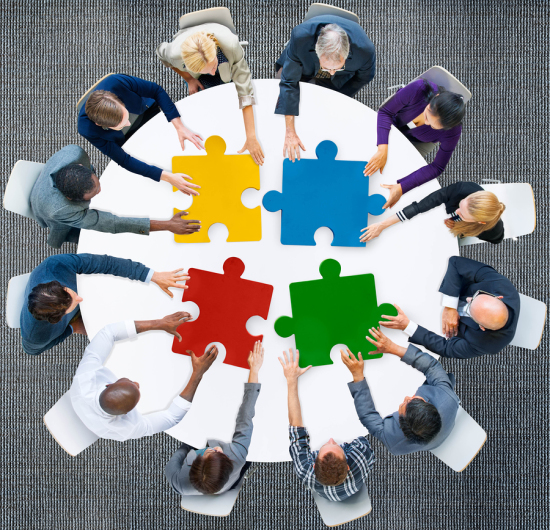 The way we work isn't working anymore.
Some experts blame traditional organizational hierarchies, incentives that fail to motivate, disengaged employees (two-thirds of the workforce), and a system that overcompensates management while undervaluing frontline workers.
New ways of working have already evolved, explains corporate coach Frederic Laloux in Reinventing Organizations: A Guide to Creating Organizations Inspired by the Next Stage of Human Consciousness. He poses an important question:
Can we create organizations free of politics, bureaucracy and infighting; free of stress and burnout; free of resignation, resentment, and apathy; and free of the posturing at the top and the drudgery at the bottom?
Some say we're on the verge of a shift in the way we organize and manage people who must work together. Others aren't so sure. Is it really possible to reinvent organizations? Can we devise a new model that makes work more productive—and, even more importantly—truly fulfilling and meaningful?
In the course of history, humankind has repeatedly reinvented how people come together to get work done, each time creating a new, vastly superior organizational model. What's more, this historical perspective hints at a new organizational design that may be just around the corner, waiting to emerge.
This article reviews the history of organizations in a quest to reinvent work to be more meaningful and engaging.  It suggests a new organizational model for the future of work.
This is a brief synopsis of a 1,750-word and a 900-word article and 5 Article Nuggets*, suitable for consultants' newsletters for executives and leaders in organizations. It is available for purchase with full reprint rights, which means you may put your name on it and use it in your newsletters, blogs or other marketing materials. You may also modify it and add your personal experiences and perspectives.
The complete article includes these important concepts:
Organizations' Evolving Stages
Early Tribal Organizations
Early Organization of Labor
Today's Organizations
Teal: The Newest Stage of Organizations
Leaders of Teal Organizations
————————————————————————————
Request This Content
Send us an email and let us know if you'd like to receive this article, Article Nuggets* or Newsletter (as applicable.) It is available in the following formats:
Brief History of Organizations: The Quest to Reinvent Work – 1,750-word Article with Full Reprint Rights, $79
Brief History of Organizations: The Quest to Reinvent Work – 900-word article with Full Reprint Rights, $57
Brief History of Organizations: The Quest to Reinvent Work – 5-Article Nuggets* with Full Reprint Rights,  $89
*Article Nuggets: The same article broken up into 5 blog-style sections suitable for a series of blog posts or shorter newsletter articles.