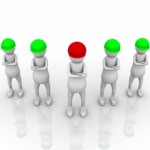 Are leaders born or made? One could argue for either position.
The real issue is that all leaders can improve. Whether you're a seasoned executive or a high-potential team member, you can boost your performance in five crucial leadership areas.
More than half a million business books deal with leadership acumen, but studying the most respected experts' ideas reveals a consensus on the foremost roles required for effectiveness. (photo courtesy renjith krishnan/FreeDigitalPhotos.net)
In The Leadership Code, Dave Ulrich, Norm Smallwood and Kate Sweetman have synthesized current thinking on leadership and developed a framework that blends idealism with realism. They've distilled leadership into five core rules, regardless of one's industry or business environment:
Having a framework for the most essential leadership skills will help you avoid quick fixes and business-book fads. While the scope of leadership may seem overwhelming, five golden rules provide much-needed focus. It's easy to get lost if you pursue the wrong priorities.
This article summarizes the five essential rules for leadership effectiveness and provides a framework that covers the entire leadership landscape, so that you can focus on the best ways to develop your talent.
____________________________________________________
This is a brief synopsis of an 1800 & 950-word article and Article Nuggets*, suitable for consultants' newsletters for executives and leaders in organizations. It is available for purchase with full reprint rights, which means you may put your name on it and use it in your newsletters, blogs or other marketing materials. You may also modify it and add your personal experiences and perspectives.
The complete 1800-word article includes these important concepts:
Five Golden Rules

Rule 1: Shape the future
Rule 2: Make things happen
Rule 3: Engage today's talent
Rule 4: Build the next generation
Rule 5: Invest in yourself

A Review of Leadership Theories
Understanding the Five Roles
Personal Proficiency
————————————————————————————
Request This Content:
Send us an email and let us know if you'd like to receive this article, Article Nuggets* or Newsletter (as applicable.) It is available in the following formats:
a. Text, 1800-word Article with Full Reprint Rights, $79 –
Five Golden Rules for Leadership 1800-word article, reprint rights
b. Text, 950-word Article with Full Reprint Rights, $57 –
Five Golden Rules for Leadership – 800-word article, reprint rights
c. 5 Article Nuggets, a series of blog-style content with Full Reprint Rights, $89 –
Five Golden Rules for Leadership – 5 Article Nuggets, blog-style, first-person pronoun, links
*Article Nuggets: The same article broken up into 3-5 blog-style sections suitable for a series of blog posts or shorter newsletter articles.