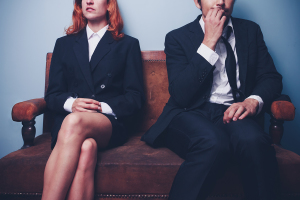 How much time and attention do you give to your wardrobe and appearance? It's often the little things that count. Like it or not, first impressions matter.
Remember Malcolm Gladwell's blockbuster book Blink, back in 2007? The author stresses how quickly we decide to like or dislike someone. Our brains size up people in less than 250 milliseconds.
While character and communication skills are key, you won't influence the people you wish to if your appearance telegraphs that you're clueless.
Whether you're an executive up for promotion, an employee seeking more responsibilities, or a parent involved in community or team activities, how you look will open doors and put you in play.
There's a connection between looking good and feeling capable. When we look our best, we feel confident. And research shows there's also a big link between our appearance and whether we are perceived as competent or not.
People who look attractive and well-groomed are perceived by others as more capable, likeable, and even more trustworthy.
It's not surprising, however, that colleagues, mentors, and even your best friends are reluctant to give feedback on how you should improve your wardrobe, hair, and grooming. Advice on appearances is difficult for anyone to give, even with best interests at heart. At work, it's even more perilous to critique appearances, especially to women and minorities.
This article explores how personal appearances and perceptions matter, the five aspects of good appearance, and suggests ways to make a better first and lasting impression.
_________________________________
This is a brief synopsis of a 975-word article and Article Nuggets*, suitable for consultants' newsletters for executives and leaders in organizations. It is available for purchase with full reprint rights, which means you may put your name on it and use it in your newsletters, blogs or other marketing materials. You may also modify it and add your personal experiences and perspectives.
The complete article includes these important concepts:
Polish and Grooming
Rules of Engagement
Attractiveness Counts
Image Matters
Good Packaging
————————————————————————————
Request This Content:
Send us an email and let us know if you'd like to receive this article, Article Nuggets* or Newsletter (as applicable.) It is available in the following formats:
1.  Your Personal Presence: Appearances Matter – 975-word Article with Full Reprint Rights, $57
2.  Your Personal Presence: Appearances Matter – 3-Article Nuggets with Full Reprint Rights, $64
*Article Nuggets: The same article broken up into 3-5 blog-style sections suitable for a series of blog posts or shorter newsletter articles.