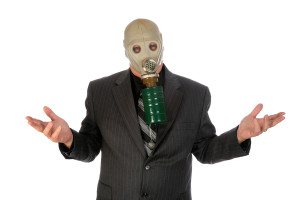 "Toxic leaders cast their spell broadly. Most of us claim we abhor them. Yet we frequently follow — or at least tolerate — them." ~ Jean Lipman-Blumen, The Allure of Toxic Leaders (Oxford University Press, 2004)
Much has been written about toxic leaders with psychopathic traits and narcissistic personality disorders. Bad leaders leave a trail of diminishing returns, ruined reputations, failed products, employee litigation and disheartened staffs.
But applying labels doesn't solve any problems. Leadership is relationship-driven, and organizational toxicity involves all levels—from followers to executive boards. Chopping off the rotting head won't do the trick when the entire organizational system has been infected.
Companies that replace one dysfunctional leader with another often run through a series of CEOs in an attempt to find the right savior. They're effectively changing seats on the Titanic. Consultants and coaches may try to treat toxicity's symptoms, but they'll achieve lasting results only when they address its root causes.
Despite our best efforts at developing leadership skills, we continue to witness counterproductive and destructive workplace behaviors. Toxic leadership is a major contributor to employee disengagement. Left unchecked, bad behavior invites turnover, absenteeism, grievances, bad press and costly lawsuits.
Can leadership coaches and consultants diagnose and "cure" these destructive leaders? It's not easy. Most toxic leadership behaviors are embedded in dysfunctional systems that actually promote destructiveness through poor policies, avoidance and negligence. But many case studies prove that change is possible; It requires a major shift in assumptions and engagement in coaching/training.
This article examines toxic leadership and takes a new look at solutions, and suggests innovative transformation strategies and steps to prevent or correct organization toxicity levels.
 ————————————————————————————
This is a brief synopsis of a 1,500-word and a 900-word article and 5 Article Nuggets*, suitable for consultants' newsletters for executives and leaders in organizations. It is available for purchase with full reprint rights, which means you may put your name on it and use it in your newsletters, blogs or other marketing materials. You may also modify it and add your personal experiences and perspectives.
The complete article includes these important concepts:
Signs of Toxicity
Resisting External Help
Transformational Opportunities
Toxicity Prevention Plan
Readiness for Change
Toxicity Correction Plan
————————————————————————————
Request This Content:
Send us an email and let us know if you'd like to receive this article, Article Nuggets* or Newsletter (as applicable.) It is available in the following formats:
Toxic Leadership: A New Look at Solutions –1,500-word Article with Full Reprint Rights, $79
Toxic Leadership: A New Look at Solutions – 1,000-word article with Full Reprint Rights, $57
Toxic Leadership: A New Look at Solutions -5-Article Nuggets* with Full Reprint Rights,  $89
*Article Nuggets: The same article broken up into 5 blog-style sections suitable for a series of blog posts or shorter newsletter articles.