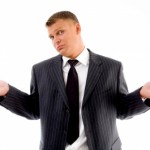 Leaders everywhere are in disrepute. Hardly a day goes by without news of corporate ethical violations, financial fudging and CEO failures. Yet, compensation packages and bonuses continue unabated, even when disgraced leaders are sent packing. (photo courtesy freedigitalphotos.net)
Harvard Business School Professor Barbara Kellerman criticizes the leadership-development industry in her new book, The End of Leadership (HarperBusiness, April 2012). She asserts:
Leaders at every level, across all industries, are failing the people who depend on them.
Leadership programs have done an inadequate job of producing effective and ethical leaders.
We don't really know how to grow good leaders, and we know even less about how to stop or slow the bad ones.
Today's business environment is rapidly changing in ways leaders are unable or unwilling to grasp.
Followers are disappointed and disillusioned, even though they are more empowered, emboldened and entitled than ever before.
This article examines the evidence of ineffective and unethical leaders, the loss of leadership power and trust, and what leaders and followers can do about it.
 __________________________________________________________
This is a brief synopsis of a 1,600-word article and Article Nuggets,*suitable for consultants' newsletters for executives and leaders in organizations. It is available for purchase with full reprint rights, which means you may put your name on it and use it in your newsletters, blogs or other marketing materials. You may also modify it and add your personal experiences and perspectives.
The complete article includes these important concepts:
Leadership's Devolution
The Leadership Trust Gap
Income: The Great Divide
Flawed Followers
Question These Assumptions
What Leaders Can Do
What Followers Can Do
————————————————————————————
Request This Content:
Send us an email and let us know if you'd like to receive this article, Article Nuggets* or Newsletter (as applicable.) It is available in the following formats:
a.   Text, 1550-word Article with Full Reprint Rights, $79 –  
       The End of Bad Leadership – 1550-word article, reprint rights 
b.   Text, 880-word Article with Full Reprint Rights, $57 – 
       The End of Bad Leadership – 880-word article, reprint rights
c.   5 Article Nuggets, a series of blog-style content with Full Reprint Rights, $89 –
         The End of Bad Leadership – 5 Article Nuggets, blog-style, first-person, links
*Article Nuggets: The same article broken up into 3-5 blog-style sections suitable for a series of blog posts or shorter newsletter articles.