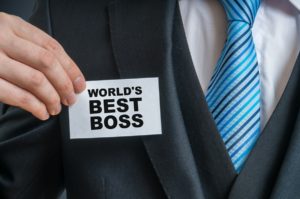 Nothing can be more debilitating in an organization than a leader with an ego.  If you work for a leader driven by ego, your ability to cope can be pushed to the limit.  In organizations, leaders with out-of-control egos are responsible for huge losses in productivity and profits.
In today's culture that promotes self-worth and self-focus, egotism appears to be a growing trend that often gets rewarded. However, outsized egos are behind the struggle organizations have in keeping good people, doing the right thing, earning the trust of their customers, and enjoying long-term prosperity.
Egotism is easy to spot, but its effects are hard to understand, and solutions are challenging.
Author Ryan Holiday, in his book, Ego Is The Enemy (Penguin, 2016), defines ego as a sense of superiority and certainty that exceeds the bounds of confidence and talent.  Ego is what drives many leaders to excel in their fields, but it leaves them (and their organizations) vulnerable to failure.
In a world of ambition with high rewards for success, big egos seem to come with the territory. But for leaders who want to build sustainable success, ego is their inner enemy.
This article explores the dangers of ego in leadership and suggests ways egotism can be countered so that leaders can refocus, become less egotistical and more effective.
This is a brief synopsis of a 1,600-word and a 900-word article and 5-Article Nuggets*, suitable for consultants' newsletters for executives and leaders in organizations. It is available for purchase with full reprint rights, which means you may put your name on it and use it in your newsletters, blogs or other marketing materials. You may also modify it and add your personal experiences and perspectives.
The complete article includes these important concepts:
Leaders' inner struggles with ego
The outer symptoms of egotism
Taking ground back from egotism
Principles that subdue egotism
————————————————————————————
Request This Content
Send us an email and let us know if you'd like to receive this article, Article Nuggets* or Newsletter (as applicable.) It is available in the following formats:
The Dangers of Ego in Leadership – 1,600-word Article with Full Reprint Rights, $79
The Dangers of Ego in Leadership – 900-word article with Full Reprint Rights, $57
The Dangers of Ego in Leadership – 5-Article Nuggets* with Full Reprint Rights,  $89
*Article Nuggets: The same article broken up into 5 blog-style sections suitable for a series of blog posts or shorter newsletter articles.