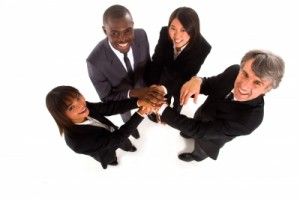 "The problem with business today isn't a lack of innovation; it's a lack of empathy." ~ Stanford Professor Dev Patnaik, author of Wired to Care
In an uncertain economy, empathy may seem like a soft business skill. It can, however, serve as a catalyst for new growth, innovation and employee engagement, all of which drive profits and long-term results.
"Companies prosper when they tap into a power that every one of us already has—the ability to reach outside of ourselves and connect with other people," writes Stanford University Adjunct Professor Dev Patnaik in Wired to Care: How Companies Prosper When They Create Widespread Empathy. (photo courtesy freedigitalphotos.net)
Most organizations over-rely on data, to the exclusion of face-to-face customer contact. Yet we are intrinsically social animals, with an innate ability to sense what others are thinking and feeling.
If you stay in touch with colleagues and customers, you'll have a better sense of what's going on in the world. You'll also surpass competitors at spotting new opportunities.
In Your Customers' Shoes
Modern technological improvements in data-mining provide strategic plans, sales forecasts and manufacturing reports. Companies become so dependent on these models that they can lose touch with reality.
Firms use information to create maps—market segmentations, research reports—of how customers use their products. But these maps are poor substitutes for actual human contact. Many managers make critical decisions based on numbers, without any personal feeling for the people they serve. They fail to spot new opportunities and innovative solutions for customers.
For thousands of years, craftsmen made things for people they knew. Tailors, cobblers and other tradesmen understood what their customers wanted. That ended with the Industrial Revolution. It's much harder to succeed when you create products for people you don't know—individuals who are halfway around the world.
Information technology is reshaping the company/consumer relationship, often bringing benefits to both. The misuse of technology, however, can erode customer care. Despite living in an age where technology has made always-on data connections ubiquitous, we are more disconnected from the people we impact than at any other time in history.
This article summarizes the importance of empathy as a strategic business tactic in an organization that helps business people connect with what's going on in the world, anticipate new opportunities, and keep employees and customers engaged and enthusiastic.
 ____________________________________
This is a brief synopsis of a 1600 & 950-word article and Article Nuggets*, suitable for consultants' newsletters for executives and leaders in organizations. It is available for purchase with full reprint rights, which means you may put your name on it and use it in your newsletters, blogs or other marketing materials. You may also modify it and add your personal experiences and perspectives.
The complete 1600-word article includes these important concepts:
Real People in the Information Age
In Your Customers' Shoes
When a Company Lacks Empathy
The Way Things Used to Be
Connecting through Social Media
Inside the Empathic Organization
————————————————————————————
Request This Content:
Send us an email and let us know if you'd like to receive this article, Article Nuggets* or Newsletter (as applicable.) It is available in the following formats:
a.    Text, 1600-word Article with Full Reprint Rights, $79 –  
       The Business Case for Empathy – 1600-word article, reprint rights
b.    Text, 950-word Article with Full Reprint Rights, $57 – 
       The Business Case for Empathy – 950-word article, reprint rights 
c.     5 Article Nuggets, a series of blog-style content with Full Reprint Rights, $89 –
        The Business Case for Empathy – 5 Article Nuggets, blog-style, first-person pronoun, links
  
*Article Nuggets: The same article broken up into 3-5 blog-style sections suitable for a series of blog posts or shorter newsletter articles.