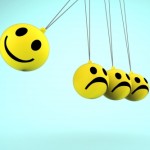 Is it possible to take specific action steps to become happier? Do we find ourselves pouring effort into improving our circumstances, only to find that we're not that much happier after all?
The King of Bhutan, the last Buddhist kingdom in the Himalayas, has decided that the best way to foster economic development in his country is to shift the focus from GDP (Gross Domestic Product) to GDH: Gross Domestic Happiness.
While most people in this tiny country between India and China are subsistence farmers, they enjoy food, shelter and universal health care. They refuse to make money from commercial ventures that could compromise their nation's health, environment and egalitarian principles.
So, how does an entire country—or even one individual—raise happiness levels?
Many people find this question baffling. We know we must devote considerable time and effort to master a sport, hone our professional skills or successfully rear a child. But when we try to exert control over our emotional or mental lives, we're frequently stymied.
With sports, there's a correlation between practice and mastery. The same applies to attaining greater happiness.
To become happier, you must apply effort and commitment every day of your life. It's hard work, but it's the most rewarding assignment you'll ever undertake.
This article explores the benefits of raising ones happiness level, the importance of gratitude and optimism, and offers exercises to help cultivate optimistic thinking habits to boost your mood and motivation.
_________________________________
This is a brief synopsis of an 845-word article and Article Nuggets*, suitable for consultants' newsletters for executives and leaders in organizations. It is available for purchase with full reprint rights, which means you may put your name on it and use it in your newsletters, blogs or other marketing materials. You may also modify it and add your personal experiences and perspectives.
The complete article includes these important concepts:
Why work to be happy?
Two happiness activities
Exercises to boost optimism
Your best possible selves
————————————————————————————
Request This Content:
Send us an email and let us know if you'd like to receive this article, Article Nuggets* or Newsletter (as applicable.) It is available in the following formats:
1.  Put Happiness into Action – 845-word Article with Full Reprint Rights, $57
2.  Put Happiness into Action –  3-Article Nuggets* with Full Reprint Rights, $64
*Article Nuggets: The same article broken up into 3-5 blog-style sections suitable for a series of blog posts or shorter newsletter articles.
Photo courtesy http://www.freedigitalphotos.net