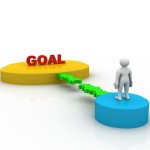 Knowing why you're here, and who you want to be, isn't a part-time job. The challenge is to live out what you stand for, intentionally, in every moment. ~ Tony Schwartz, author
Far from being touchy-feely concepts touted by motivational speakers, purpose and values have been identified as key drivers of high-performing organizations. (photo courtesy jscreationzs)
In Built to Last, James Collins and Jerry Porras reveal that purpose- and values-driven organizations outperformed the general market and comparison companies by 15:1 and 6:1, respectively. 
In Corporate Culture and Performance, Harvard professors John Kotter and James Heskett found that firms with shared-values–based cultures enjoyed 400% higher revenues, 700% greater job growth, 1,200% higher stock prices and significantly faster profit performance, as compared to companies in similar industries. 
Leaders who have a clearly articulated purpose and are driven to make a difference can inspire people to overcome insurmountable odds, writes Roy M. Spence Jr. in It's Not What You Sell, It's What You Stand For.
"Life is short, so live it out doing something that you care about," he writes. "Try to make a difference the best way you can. There's an enormous satisfaction in seeing the cultural transformation that happens when an organization is turned on to purpose."
While a well-designed strategy and its effective implementation are required for business success, neither inspires followers to maintain engagement during troubled times. Purpose must tap into people's hearts and help them give their best when the chips are down.
In a company without purpose, people have only a vague idea of what they're supposed to do. There's always activity and busyness, but it's often frenetic and focused solely on short-term goals. There's a lack of direction and commitment to purpose.
This article summarizes the importance of tapping into business purpose to fully engage everyone in the organization for greater creativity and performance and provides questions to help identify true purpose.
————————————————————————————
This is a brief synopsis of an 1800 & 900-word article and Article Nuggets*, suitable for consultants' newsletters for executives and leaders in organizations. It is available for purchase with full reprint rights, which means you may put your name on it and use it in your newsletters, blogs or other marketing materials. You may also modify it and add your personal experiences and perspectives. The complete 1800-word article includes these important concepts:
Lack of Full Engagement
Energy and Creative Flow
Finding a Business Purpose
The Bridge to What Matters
Making a Difference 
————————————————————————————
Request This Content:
Send us an email and let us know if you'd like to receive this article, Article Nuggets* or Newsletter (as applicable.) It is available in the following formats:
a. Text, 1800-word Article with Full Reprint Rights, $79 –
    Purpose-Driven Leadership: The Bridge to What Truly Matters, 1800-word article
b. Text, 900-word Article with Full Reprint Rights, $57 – 
    Purpose-Driven Leadership: The Bridge to What Truly Matters, 900-word article 
c. Article Nuggets, a series of blog-style content with Full Reprint Rights, $89 –
    Purpose-Driven Leadership: The Bridge to What Truly Matters, 6 Article Nuggets, blog-style,
    first-person pronoun, links
*Article Nuggets: The same article broken up into 3-5 blog-style sections suitable for a series of blog posts or shorter newsletter articles.