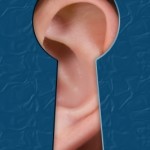 I only wish I could find an institute that teaches people how to listen. Business people need to listen at least as much as they need to talk. Too many people fail to realize that real communication goes in both directions. ~ Lee Iacocca, former CEO Ford Motor Co.
Listening may be the most important, yet least developed, skill for personal and professional success, especially in today's fast-paced business climate. (photo courtesy freedigitalphotos.net)
Good listening skills can help you:
Secure a promotion or great assignment
Facilitate the right alliances
Foster sales and team alignment
Create healthy personal relationships
Find out what you don't know
Make the right decisions
Develop innovative ideas
Many people take listening skills for granted, focusing instead on how to articulate their own views more effectively. This approach is misguided.
Power listening—the art of probing and challenging the information garnered from others to improve its quality and quantity—is the key to building a knowledge base that generates fresh insights.
In Power Listening: Mastering the Most Critical Business Skill of All (Portfolio Hardcover, 2012), Bernard T. Ferrari suggests four steps that form a good listening foundation:
1.  Show respect
2.  Keep quiet
3.  Challenge assumptions
4.  Maintain focus
This sounds simple and straight forward, for sure. But most of us fail to complete all four steps adequately to achieve "power listening."
This 750- word article recommends power listening skills by practicing four foundational steps for successful conversations, in order to create better relationships and improve decision-making and innovative thinking.
__________________________________________
This is a brief synopsis of a 750-word article and Article Nuggets,* suitable for coach newsletters and blog posts. It is available for purchase with full reprint rights, which means you may put your name on it and use it in your newsletters, blogs or other marketing materials. You may also modify it and add your personal experiences and perspectives.
The full article talks about four basic requirements of power listening:
Show respect
Keep quiet
Challenge assumptions
Maintain focus
————————————————————————————
Request This Content:
Send us an email and let us know if you'd like to receive this article, Article Nuggets* or Newsletter (as applicable.) It is available in the following formats:
1.  Power Listening  – 750-word Article with Full Reprint Rights, $57 –
2.  Power Listening  – 3 Article Nuggets* with Full Reprint Rights, $64 – 
*Article Nuggets: The same article broken up into 3 blog-style sections suitable for a series of blog posts or shorter newsletter articles, with links and personal pronoun "I."