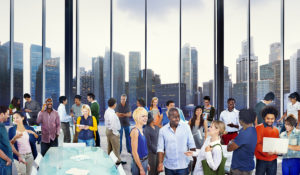 If you have friends at work you most likely enjoy your job more. But did you know that you make better decisions, are more engaged in your work, more committed, and productive?
Making friends at work is more important than we give credit. Workplace friendships are one of the strongest predictors of productivity.
It turns out that meaningful connections are vital to our psychological and physical well-being. In fact, it's impossible to perform at our best unless we feel connected to others.
But making friends at work isn't always easy. Work relationships can be complicated by notions of hierarchy and perceived utilitarian motives. Efforts to befriend someone can feel forced.
This article explores the importance of making friends at work, three types of friendship, and offers an eight step process for self-disclosure.
This is a brief synopsis of a 975 word article and 3 Article Nuggets*, suitable for consultants' newsletters for executives and leaders in organizations. It is available for purchase with full reprint rights, which means you may put your name on it and use it in your newsletters, blogs or other marketing materials. You may also modify it and add your personal experiences and perspectives.
The complete article includes these important concepts:
Three types of friendships
The Golden Rule of Friendship
Friends and self-disclosure
_­­­­­­­­­­­­­________________________________
If you are a Content for Coaches client and your account is current, no need to order. Send us an email to confirm that you wish to receive this article, Article Nuggets or Newsletter (as applicable.)
All others please use the order links below.
Order Links to purchase this article:
1.  Making Friends at Work – 975-word Article with Full Reprint Rights, $57


2.  Making Friends at Work – 3-Article Nuggets* with Full Reprint Rights, $64


*Article Nuggets: The same article broken up into 3-5 blog-style sections suitable for a series of blog posts or shorter newsletter articles.
Subscriptions of 6 and 12 articles are available. Save up to 45%. View options here.