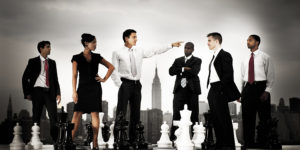 Most everyone is part of a team. And most of us try to be fair, accepting, helpful, and supportive of our teammates. Yet we frequently encounter problems interacting with others, in spite of shared values and common goals. Why is that?
"We have a strong and natural tendency to look out for ourselves before others, even when those others are part of our families and our teams." ~ Patrick Lencioni, The Five Dysfunctions of a Team, (Jossey Bass, 2012)
Teams are made up of fallible human beings, all with self-interest and self-preservation on their minds. If that were not enough, people also have strong competitive drives that lead them to put themselves first in an effort to "win." Those who are less competitive feel threatened, and react with their own defensive stances.
Once self-preservation kicks in, it spreads to other members like a contagious disease; it erodes team spirit causing trust to disintegrate. Because trust is foundational for team members to work together effectively, things can quickly go wrong.
As an individual team member, there are things you can do when you sense friction that could derail your team's effectiveness.
This article offers tips on how to practice specific habits to be a better team member and improve collaboration.
This is a brief synopsis of a 700 word article and 3 Article Nuggets*, suitable for consultants' newsletters for executives and leaders in organizations. It is available for purchase with full reprint rights, which means you may put your name on it and use it in your newsletters, blogs or other marketing materials. You may also modify it and add your personal experiences and perspectives.
The complete article includes these important concepts:
Five habits to become a better team member
Learn to embrace conflict
_­­­­­­­­­­­­­________________________________
If you are a Content for Coaches client and your account is current, no need to order. Send us an email to confirm that you wish to receive this article, Article Nuggets or Newsletter (as applicable.)
All others please use the order links below.
Order Links to purchase this article:
1. How to be a Better Team Member – 700-word Article with Full Reprint Rights, $57
 

2.  How to be a Better Team Member – 3-Article Nuggets* with Full Reprint Rights, $64


*Article Nuggets: The same article broken up into 3-5 blog-style sections suitable for a series of blog posts or shorter newsletter articles.
Subscriptions of 6 and 12 articles are available. Save up to 45%. View options here.