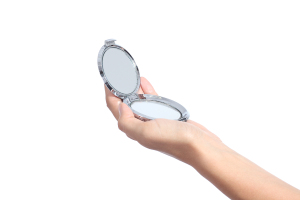 How well do you think you know yourself? Self-awareness is key to success in work, life, and relationships.
"Knowing yourself, and knowing the forces that affect the people who work for you, holds the key to being a successful leader." ~ Kenneth M. Settel, MD, Clinical Instructor in Psychiatry, Harvard Medical School, CEO Psychology: Who Rises, Who Falls and Why (RosettaBooks, 2012)
Many of us know our character strengths, and over time have worked to develop them. At the same time, not being cognizant of our weaknesses can blindside our success.
The very character traits that peg you as having high potential may prevent you from making it to the finish line. Every strength has a downside when carried to the extreme. Self-awareness can prevent self-sabotage.
You probably have a sense of your personal talents and liabilities. Learning how to leverage them—amplifying your strengths while minimizing your weaknesses—sets the stage for good interpersonal relationships. You'll become less vulnerable and less sensitive to criticism.
Self-awareness requires sensitivity to both inner and outer realities, knowing full well you can never perceive things without your own biases and filters. By keeping a growth mindset, you can ask the questions needed to listen and learn.
This article explores four personality types and their strengths and weaknesses, open and closed mindsets, and suggests ways to prevent self-sabotage and expand self-awareness.
_________________________________
This is a brief synopsis of a 950-word article and 3 Article Nuggets*, suitable for consultants' newsletters for executives and leaders in organizations. It is available for purchase with full reprint rights, which means you may put your name on it and use it in your newsletters, blogs or other marketing materials. You may also modify it and add your personal experiences and perspectives.
The complete article includes these important concepts:
The Pitfalls of Strengths
Open and Closed Mindsets
How to Expand Self-Awareness

Emotions
Situations
Failure
Ego
————————————————————————————
Request This Content:
Send us an email and let us know if you'd like to receive this article, Article Nuggets* or Newsletter (as applicable.) It is available in the following formats:
1.  Do You Know Yourself Well? – 950-word Article with Full Reprint Rights, $57
2.  Do You Know Yourself Well? – 3-Article Nuggets* with Full Reprint Rights, $64
*Article Nuggets: The same article broken up into 3-5 blog-style sections suitable for a series of blog posts or shorter newsletter articles.