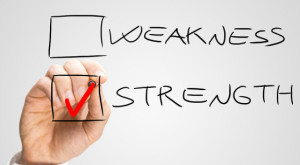 Most of us have a poor sense of our talents and strengths, yet are acutely aware of our weaknesses and flaws.
Throughout the education system and subsequent careers, there's often been much more attention paid to how to improve and fix our shortcomings rather than enhance our strengths.
"Most Americans do not know what their strengths are. When you ask them, they look at you with a blank stare, or they respond in terms of subject knowledge, which is the wrong answer." —Peter Drucker, management expert
Parents, teachers, and managers are well versed in spotting deficits. In fact, most people — partners and spouses included — consider it their duty to point out our weaknesses in the hope of helping us improve.
As a result, most of us have become experts in our weaknesses and spend our lives either trying to fix these flaws or accept them as permanent character defects.
Consequently, our strengths lie dormant and neglected. The research, however, is clear: we grow and develop by focusing on our strengths, rather than trying to correct faults.
Over the last decade, coaching and leadership professionals have been placing greater emphasis on developing personal strengths. The goal is to help individuals work with what they have and build on their natural talents.
This article explores the importance of knowing your strengths so that you can develop your natural talents and put your personal strengths into practice with action steps.
 _________________________________
This is a brief synopsis of a 900 word article and 3 Article Nuggets*, suitable for consultants' newsletters for executives and leaders in organizations. It is available for purchase with full reprint rights, which means you may put your name on it and use it in your newsletters, blogs or other marketing materials. You may also modify it and add your personal experiences and perspectives.
The complete article includes these important concepts:
Cultural Differences
A Focus on Faults
Strengths vs. Weaknesses
The Courage to Use Your Strengths
————————————————————————————
Request This Content
Send us an email and let us know if you'd like to receive this article, Article Nuggets* or Newsletter (as applicable.) It is available in the following formats:
1.  Do You Know Your Strengths? – 900-word Article with Full Reprint Rights, $57
2.  Do You Know Your Strengths? – 3-Article Nuggets* with Full Reprint Rights, $64
*Article Nuggets: The same article broken up into 3-5 blog-style sections suitable for a series of blog posts or shorter newsletter articles.