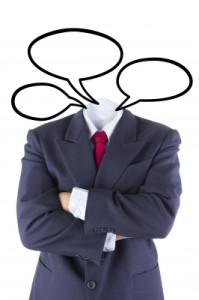 Is there such a thing as conversational intelligence? It could be that some leaders are naturally more adept at the art of conversation. It's certainly true that we all could improve our ability to engage and influence others through conversations.
"Human beings are the most highly social species on this planet. When we succeed in connecting deeply with others — heart to heart and head to head — trust is at its all-time high, and people work in concert in extraordinary ways." ~ Judith E. Glaser, Conversational Intelligence: How Great Leaders Build Trust & Get Extraordinary Results (Bibliomotion, Inc., 2013)
Scientists are discovering how conversations cause a rapid cascade of neurochemicals in the brain, laying the foundation for trust or distrust.
To remain competitive, leaders must understand the powerful conversational rituals that prime the brain for trust, partnership and mutual success.
Conversations are more than a vehicle for sharing information. As social beings, our interactions involve words that trigger powerful physical and emotional responses. Our words can facilitate healthy, trusting conversations — or cause others to shut down with fear, caution and worry.
When you promote shared understanding through conversations, you can unleash others' full potential. As Glaser explains:
"The premise of Conversational Intelligence is: To get to the next level of greatness depends on the quality of our culture, which depends on the quality of our relationships, which depends on the quality of our conversations. Everything happens through conversations!"
This article explores the neuro-science of conversations, three levels of conversations, five conversational blind spots and suggests that leaders can improve their conversational IQ to achieve mutual understanding, trust and growth.
_____________________________________
This is a brief synopsis of a 1,600-word and a 900-word article and Article Nuggets,*suitable for consultants' newsletters for executives and leaders in organizations. It is available for purchase with full reprint rights, which means you may put your name on it and use it in your newsletters, blogs or other marketing materials. You may also modify it and add your personal experiences and perspectives.
The complete article includes these important concepts:
5 Subconscious Questions
Leadership Conversations
Conflict and Conversations
3 Conversation Levels
Reality Gaps
5 Conversational Blind Spots
Improve Your Conversations
————————————————————————————
Request This Content:
Send us an email and let us know if you'd like to receive this article, Article Nuggets* or Newsletter (as applicable.) It is available in the following formats:
1.  Conversational IQ: 5 Conversational Blind Spots – 
      1,600-word Article with Full Reprint Rights, $79
2.  Conversational IQ: 5 Conversational Blind Spots –
      900-word article with Full Reprint Rights, $57


3.  Conversational IQ: 5 Conversational Blind Spots –   
      5-Article Nuggets* with Full Reprint Rights,  $89
*Article Nuggets: The same article broken up into 3-5 blog-style sections suitable for a series of blog posts or shorter newsletter articles.
Photo courtesy www.freedigitalphotos.net