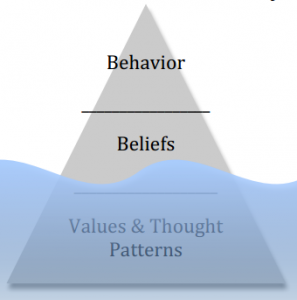 One cannot teach a man anything. One can only enable him to learn from within himself. ~ Galileo Galilei
With so many employees being paid to think, leaders and managers should find ways to cultivate their staffs' cerebral capabilities to boost workplace performance.
But most leaders wouldn't know where to start. (photo courtesy freedigitalphotos.net)
The process begins by improving the way knowledge workers process information—not telling them what to do or jumping in to solve their problems.
Leadership practices need to keep up with the realities of organizational life. There's an increasing gap between the way employees are managed and how they want to be managed. Countless surveys and headlines reinforce this revelation:
60 percent of workers are miserable.
74 percent aren't engaged at work.
It's easy to see how we arrived at this sorry situation. A century ago, most people were paid for physical labor. The dominant management model was master/apprentice, with the master showing his employees how to perform their jobs.
The Industrial Age introduced systems. Process management became the dominant paradigm, with scientific analysis of linear systems for greater efficiency. Employees were trained to follow, unquestioningly, their bosses' best-laid plans.
Over the last two decades, the most routine business tasks have been computerized or outsourced. As a result, today's employees are increasingly hired to think. In 2005, 40 percent of employees were considered knowledge workers; for mid-level management and higher, the number is closer to 100 percent.
Modern leaders must increasingly shift management styles to reflect the needs of a more educated labor force. Unfortunately, business schools have neglected to teach leaders and managers how to improve their knowledge workers' thinking and decision-making skills.
This 1600-word article discusses practical ways to boost performance of knowledge workers through coaching conversations that lead to breakthrough insights and empowerment.
_________________________________________
This is a brief synopsis of an 1600 & 950-word article and Article Nuggets*, suitable for consultants' newsletters for executives and leaders in organizations. It is available for purchase with full reprint rights, which means you may put your name on it and use it in your newsletters, blogs or other marketing materials. You may also modify it and add your personal experiences and perspectives.
The complete 1600-word article includes these important concepts:
Hired to Think
The Iceberg Model
Start a Coaching Conversation
Useful Questions
Asking Permission
Advice Doesn't Work
Giving Back the Monkey
————————————————————————————
Request This Content:
Send us an email and let us know if you'd like to receive this article, Article Nuggets* or Newsletter (as applicable.) It is available in the following formats:
a.    Text, 1600-word Article with Full Reprint Rights, $79 –  
        Coaching Conversations,1600-word article, reprint rights
b.    Text, 900-word Article with Full Reprint Rights, $57 –
        Coaching Conversations, 900-word article, reprint rights
c.      5 Article Nuggets, a series of blog-style content with Full Reprint Rights, $89 –
         Coaching Conversations, 5 Article Nuggets, blog-style, first-person pronoun, links
*Article Nuggets: The same article broken up into 3-5 blog-style sections suitable for a series of blog posts or shorter newsletter articles.