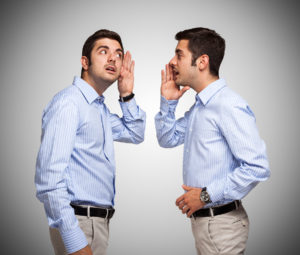 Our inner monologue runs nonstop, whether we pay attention to it or not. It is a valuable source of self-awareness and a key to knowing our blind spots. Some call it self-talk, mind chatter, or inner voice. It often tends to be negative and judgmental.
Even though our inner monologue filters, interprets, and gives meaning to our perceived experiences, we rarely acknowledge it―perhaps we don't like to catch ourselves being critical.
Yet, becoming consciously aware of these inner thoughts liberates us from being controlled by them. It is a first step toward greater self-awareness because it enables us to use our thoughts and beliefs to improve our lives.
Since self-awareness is so important to becoming emotionally intelligent―as well as being a foundational asset for leadership―it is worth our time and energy to learn how to listen to our inner monologue.
This article explores self-awareness and offers two exercises to understand our perceptions, beliefs and assumptions for greater self-awareness, growth and connections to others.
This is a brief synopsis of an 860 word article and 3 Article Nuggets*, suitable for consultants' newsletters for executives and leaders in organizations. It is available for purchase with full reprint rights, which means you may put your name on it and use it in your newsletters, blogs or other marketing materials. You may also modify it and add your personal experiences and perspectives.
The complete article includes these important concepts:
Your inner monologue: what you can learn about yourself
Self-awareness: write your beliefs and assumptions
A map vs. territory
————————————————————————————
Request This Content
Send us an email and let us know if you'd like to receive this article, Article Nuggets* or Newsletter (as applicable.) It is available in the following formats:
1. Two Exercises to Build Self-Awareness – 860-word Article with Full Reprint Rights, $57

2. Two Exercises to Build Self-Awareness – 3-Article Nuggets* with Full Reprint Rights, $64

*Article Nuggets: The same article broken up into 3-5 blog-style sections suitable for a series of blog posts or shorter newsletter articles.