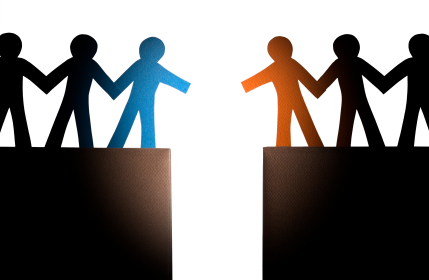 Most employees favor consensus-run organizations, where a leader uses inclusion and feedback to manage democratically. A consensus-style leader is a refreshing alternative to the tyrant who issues stern orders. But democracy, taken to an extreme, creates numerous frustrations for direct reports.
Leaders who advocate for consensus want everyone to feel valued and happy. These apparent benefits may be dwarfed by their inherent traps, creating the very unhappiness they strive to prevent. Overly inclusive leaders may unwittingly sabotage their efforts.
Consensus-style leaders disdain conflict and disunity, experiencing a sense of well-being only when everyone gets along. They seek to maintain a spirit of togetherness and happiness, going out of their way to ensure people's needs are met.
Unlike tyrants or compulsive leaders, mediators put their people's needs ahead of their own. They accept a more behind-the-scenes role, according to Beatrice Chestnut, PhD, author of The 9 Types of Leadership: Mastering the Art of People in the 21st Century Workplace (Post Hill Press, 2017). Peacekeepers don't want prominence or attention, just the satisfaction that everyone is productive, pleased and supportive.
To keep the peace, consensus-style leaders give people equal consideration by seeking their input and concerns. They welcome all ideas and suggestions so the team can come to agreement and keep the majority happy. Leaders mediate disagreements to avoid strife, often forgoing their own preferences and desires. But as Dr. Chestnut explains, such sacrifices may unintentionally reduce overall team effectiveness, morale and progress.
This article explores consensus-style leadership and offers help for leaders, employees and teams who struggle with consensus dependency.
This is a brief synopsis of a 1,575-word and a 975-word article and 5-Article Nuggets*, suitable for consultants' newsletters for executives and leaders in organizations. It is available for purchase with full reprint rights, which means you may put your name on it and use it in your newsletters, blogs or other marketing materials. You may also modify it and add your personal experiences and perspectives.
The complete article includes these important concepts:
Advantages and disadvantages
Detecting a consensus mindset
The consensus-driven character
Blind spots
Helping leaders through consensus dependency
————————————————————————————
Request This Content
Send us an email and let us know if you'd like to receive this article, Article Nuggets* or Newsletter (as applicable.) It is available in the following formats:
The Traps of Consensus-Style Leadership – 1,575-word Article with Full Reprint Rights, $79
The Traps of Consensus-Style Leadership – 975-word article with Full Reprint Rights, $57
The Traps of Consensus-Style Leadership – 5-Article Nuggets* with Full Reprint Rights, $89
*Article Nuggets: The same article broken up into 5 blog-style sections suitable for a series of blog posts or shorter newsletter articles.