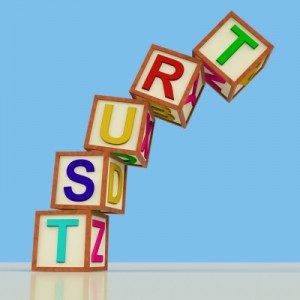 Employees want consistency between their leaders' words and actions. But only 11 percent strongly agree that their managers "walk the talk," a 2011 Maritz poll reveals.
Fairly or unfairly, leaders' behaviors are magnified and weighted, including their values, work ethics, integrity and perceived honesty. Employees have high moral expectations for those they choose to follow.
Why, then, do almost 90 percent of leaders rate so poorly on measures of trust? It's not just a problem for rank-and-file employees. Roughly half of all managers don't trust their leaders, according to a Golin Harris survey of 450 executives at 30 global companies.
These statistics are particularly troubling. A distrustful environment creates expensive—and sometimes irreparable—problems.
A Watson Wyatt Worldwide study of 12,750 U.S. workers in all major industries found that companies with high trust levels outperform their low-trust counterparts by 186 percent.
Nonetheless, organizations are woefully slow to realize the bottom-line implications of trust deficits. Despite trust's importance, few leaders give it the focus it deserves.
This article explores reasons people place so little trust in their leaders, and what leaders can do about it.
__________________________________________________________
This is a brief synopsis of a 1,500-word and an 850-word article and Article Nuggets,*suitable for consultants' newsletters for executives and leaders in organizations. It is available for purchase with full reprint rights, which means you may put your name on it and use it in your newsletters, blogs or other marketing materials. You may also modify it and add your personal experiences and perspectives.
The complete article includes these important concepts:
The Trust Crisis
The Fragility of Trust
3 Types of Trust
The Trinity of Trust
Repair the Trust Deficit
5 Steps toward a Culture of Trust
————————————————————————————
Request This Content:
Send us an email and let us know if you'd like to receive this article, Article Nuggets* or Newsletter (as applicable.) It is available in the following formats:
1.  The Leadership Trust Deficit – 1500-word Article with Full Reprint Rights, $79 –
2.  The Leadership Trust Deficit – 850-word article with Full Reprint Rights, $57 – 

3.  The Leadership Trust Deficit –  5-Article Nuggets* with Full Reprint Rights,  $89 –

*Article Nuggets: The same article broken up into 3-5 blog-style sections suitable for a series of blog posts or shorter newsletter articles.
Photo courtesy freedigitalphotos.net