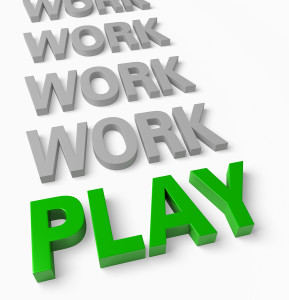 What ever happened to unbridled joy in our daily lives? Remember the fun of play as children? Maybe we need to renew ourselves and start playing more.
Something happens as we become working adults: we shift our priorities into organized, competitive, goal-directed activities. If an activity doesn't teach us a skill, make us money, or further our social relationships, we don't want to waste time being nonproductive.
Sometimes the sheer demands of daily living and family responsibilities seem to rob us of the ability to play.
"I have found that remembering what play is all about and making it part of our daily lives are probably the most important factors in being a fulfilled human being. The ability to play is critical not only to being happy, but also to sustaining social relationships and being a creative, innovative person." ~ Stuart Brown, MD, author of Play: How It Shapes the Brain, Opens the Imagination and Invigorates the Soul, Penguin Books, 2009.
We tend to underestimate the power of play. Imagine a world without it – not only the absence of games or sports, but the absence of movies, arts, music, jokes, and dramatic stories. No day-dreaming, no teasing, no flirting. Play is what lifts people out of the routine of the mundane, and offers a means to find joy in even the little things.
This article explores the renewing power of play for greater creativity, health and relationships.
_________________________________
This is a brief synopsis of a 925-word article and 3 Article Nuggets*, suitable for consultants' newsletters for executives and leaders in organizations. It is available for purchase with full reprint rights, which means you may put your name on it and use it in your newsletters, blogs or other marketing materials. You may also modify it and add your personal experiences and perspectives.
The complete article includes these important concepts:
The Importance of Play
Work vs. Play
Play at Work
————————————————————————————
Request This Content
Send us an email and let us know if you'd like to receive this article, Article Nuggets* or Newsletter (as applicable.) It is available in the following formats:
1.  Renewing Yourself: The Power of Play – 925-word Article with Full Reprint Rights, $57

2.  Renewing Yourself: The Power of Play – 3-Article Nuggets* with Full Reprint Rights, $64
*Article Nuggets: The same article broken up into 3-5 blog-style sections suitable for a series of blog posts or shorter newsletter articles.