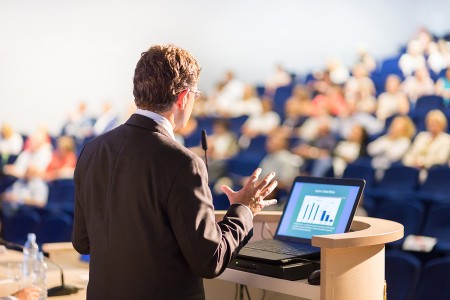 If ideas are the currency of twenty-first century business professionals, then their presentations must persuade action. Unfortunately, many fall short.
Presentations are critical, yet we too often focus on how slides look or where to stand on stage. Worse, we are prone to pack them with data, charts and graphics for fear of leaving information out. The result is often audience fatigue, information overload, and little chance of inspiring anyone to take action.
Communication experts know that shorter presentations are more effective, pointing to the revolutionary success of 18-minute TED Talks as evidence. TED Talks have redefined the elements of a successful presentation and become the gold standard for public speaking.
"TED presentations change the way people see the world and they are springboards to launch movements in the areas of art, design, business, education, health, science, technology, and global issues." Carmine Gallo, Talk Like TED: The 9 Public-Speaking Secrets of the World's Top Minds, St. Martin's Griffin, 2015
Even if you don't aspire to be invited to give a TED talk, you can benefit from learning to sell yourself and your ideas persuasively. As author and communication expert Daniel Pink notes in To Sell Is Human, "Like it or not, we're all in sales now."
Presentations matter because they are a major way we sell products and services, find investors, establish trust and credibility, and gain support for new ideas. But ideas are only as good as the actions that follow the communication of those ideas.
This article explores how to make great presentations that persuade in 20 minutes or less and offers 3 steps to craft a message that is emotional, novel, memorable and persuasive.
This is a brief synopsis of a 960 word article and 3 Article Nuggets*, suitable for consultants' newsletters for executives and leaders in organizations. It is available for purchase with full reprint rights, which means you may put your name on it and use it in your newsletters, blogs or other marketing materials. You may also modify it and add your personal experiences and perspectives.
The complete article includes these important concepts:
What makes a presentation persuasive?
Why shorter is better
3 Steps to craft a message map
————————————————————————————
Request This Content
Send us an email and let us know if you'd like to receive this article, Article Nuggets* or Newsletter (as applicable.) It is available in the following formats:
 1. Presentations that Persuade in 20 Minutes or Less – 960-word Article with Full Reprint Rights, $57
 2. Presentations that Persuade in 20 Minutes or Less – 3-Article Nuggets* with Full Reprint Rights, $64
*Article Nuggets: The same article broken up into 3-5 blog-style sections suitable for a series of blog posts or shorter newsletter articles.