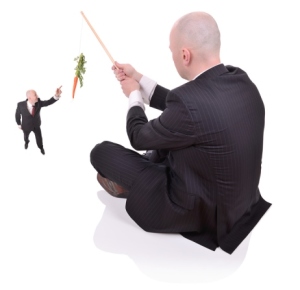 Many business leaders have lost sight of what motivates people at work. In fact, some companies haven't updated their incentive practices in years, which means they're probably struggling to create and sustain high-performing teams.
Companies continue to ignore the obvious: Offering incentives and rewards is less effective than tapping into truly meaningful intrinsic motivation. Leaders operate on old assumptions about motivation despite a wealth of well-documented scientific evidence.
The old "carrot-and-stick" mentality actually inhibits employees from seeking creative solutions, partly because they focus on attaining rewards instead of solving problems. Review the most notorious business failures, and you'll find that company leaders focused on rewarding short-term results at the expense of sustaining success.
Effective motivation requires you to offer opportunities that satisfy three basic human needs:
Autonomy
Relatedness
Competence
This approach is far from new. Social scientists have grasped what motivates people for more than 60 years. But managers continue to use the carrot/stick model with incentive programs. Regardless of gender, race, culture or generation, the reality is clear: Are you satisfying your people's psychological needs?
This article explores research on motivation and how managers can encourage higher levels of internal motivation that result in greater productivity without over-managing.
This is a brief synopsis of a 1,525-word and a 900-word article and 5 Article Nuggets*, suitable for consultants' newsletters for executives and leaders in organizations. It is available for purchase with full reprint rights, which means you may put your name on it and use it in your newsletters, blogs or other marketing materials. You may also modify it and add your personal experiences and perspectives.
The complete article includes these important concepts:
The Motivational Trifecta

Autonomy
Relatedness
Competence: Lessons from Monkeys

What Motivates People?
Motivating without Micromanaging
The Domino Effect
Motivational Conversations
————————————————————————————
If you are a Content for Coaches client and your account is current, no need to order. Send me an email to confirm that you wish to receive this article, Article Nuggets* or Newsletter (as applicable.)
All others please use the order links below.
Order Links to purchase this article:
1.  Motivate without Over-Managing – 1,525-word Article with Full Reprint Rights, $79


2.  Motivate without Over-Managing – 900-word article with Full Reprint Rights, $57


3.  Motivate without Over-Managing – 5-Article Nuggets* with Full Reprint Rights,  $89


*Article Nuggets: The same article broken up into 5 blog-style sections suitable for a series of blog posts or shorter newsletter articles.
Article by Patsi Krakoff, Psy.D.
Subscriptions of 6 and 12 articles are available. Save up to 45%. View options here.