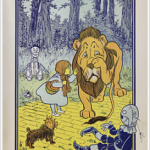 Let Me Tell You a Story…
Do you know people who can masterfully tell the right story at the right time?
Quite often, the best storytellers become our managers and leaders.
Even if you have no designs on becoming a CEO or leading a division, you undoubtedly crave more control over your work, ideas, sphere of influence and others' perceptions.
Effective storytelling can help you gain more control, while also building employee morale, strengthening teamwork and defining how problems can be solved. You'll find it much easier to develop original and effective solutions to everyday challenges.
Cold, hard facts don't inspire people to change. Straightforward analysis doesn't excite anyone about a goal. Storytelling creates an optimal learning environment: We quickly process information when it's delivered in the form of a story, and we personalize the tale so we can relate it to our own experiences.
 A story is "a fact, wrapped in an emotion, that compels us to take an action that transforms our world," write TV writer/producer Richard Maxwell and executive coach Robert Dickman in The Elements of Persuasion: Use Storytelling to Pitch Better, Sell Faster & Win More Business (HarperBusiness, 2007).
Research tells us:
Stories don't have to be long.
Stories don't have to be verbal (think of brand logos).
The right story, at the right time, helps us shape and control our world.
How can leaders craft a good story that influences others?
This article explores why storytelling has more impact than numbers and the key elements for crafting a leadership story that inspires solutions for leadership challenges.
__________________________________________________________
This is a brief synopsis of a 1570-word article and Article Nuggets,*suitable for consultants' newsletters for executives and leaders in organizations. It is available for purchase with full reprint rights, which means you may put your name on it and use it in your newsletters, blogs or other marketing materials. You may also modify it and add your personal experiences and perspectives.
The complete article includes these important concepts:
It's in Our Genes
Stirring Souls
What's in a Story?
Make Your Story Come Alive
Heighten Interest
Where to Find Stories
Leadership Challenges
Inspire with Emotions
————————————————————————————
Request This Content:
Send us an email and let us know if you'd like to receive this article, Article Nuggets* or Newsletter (as applicable.) It is available in the following formats:
a.    Let Me Tell You A Story – 1,570-word Article with Full Reprint Rights, $79 –
b.    Let Me Tell You A Story  – 890-word Article with Full Reprint Rights, $57 –
c.  Let Me Tell You A Story  – 5-Article Nuggets* with Full Reprint Rights, $89 – 
*Article Nuggets: The same article broken up into 3-5 blog-style sections suitable for a series of blog posts or shorter newsletter articles.
(Image from The Wizard of Oz on Wikipedia)