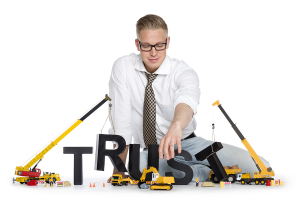 Despite the importance of building relationship trust, few leaders give it the focus it deserves. Misunderstood as a nebulous "feeling," trust is earned through consistent, positive behaviors practiced over time, making it an indispensable leadership skill.
Roughly half of all managers don't trust their leaders, according to a Golin Harris survey of 450 executives at 30 global companies.
In a 2011 Maritz survey, out of more than 90,000 employees worldwide, only seven percent say they trust their senior leaders to look out for their best interests.
A Watson Wyatt Worldwide study of 12,750 U.S. workers in all major industries found that companies with high trust levels outperform their low-trust counterparts by 186 percent.
Your success as a leader depends on the degree to which stakeholders trust you. Whether you're a business developer, salesperson, client relationship manager, C-level executive, consultant or manager, you need to master the principles of trust and put them into daily practice.
You must train your thinking and change your habits to earn the trust necessary to be influential, successful and recognized as someone who makes a difference.
Here are a few key truths about leading with trust that expert consultants suggest:
Trust grows, it doesn't just appear.
Trust is both rational and fact based, and emotional and intuitive.
Trust is a two-way street and is different for each person in the relationship.
Trust is intrinsically about taking risks.
Trust is always personal; you place trust in people.
This article examines the importance of leading with trust and explores how to build it, common barriers to trust, the building blocks, and how to measure trust in your relationships.
This is a brief synopsis of a 1,850-word and a 900-word article and 5 Article Nuggets*, suitable for consultants' newsletters for executives and leaders in organizations. It is available for purchase with full reprint rights, which means you may put your name on it and use it in your newsletters, blogs or other marketing materials. You may also modify it and add your personal experiences and perspectives.
The complete article includes these important concepts:
Feeling and Fact
5 Trust-Building Skills
3 Common Blind Spots
4 Components of Trust
Measuring Trust
The Trust Equation
————————————————————————————
Request This Content:
Send us an email and let us know if you'd like to receive this article, Article Nuggets* or Newsletter (as applicable.) It is available in the following formats:
Leading with Trust: Principles and Practice – 1,850-word Article with Full Reprint Rights, $79
Leading with Trust: Principles and Practice – 900-word article with Full Reprint Rights, $57
Leading with Trust: Principles and Practice – 5-Article Nuggets* with Full Reprint Rights,  $89
*Article Nuggets: The same article broken up into 5 blog-style sections suitable for a series of blog posts or shorter newsletter articles.