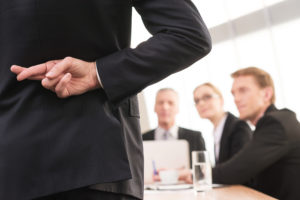 In a world where leaders spin reality and use alternative facts to make things seem better than they are, is dishonesty becoming the new norm? Or, as a Time Magazine cover asks, "Is Truth Dead?"

"Morality, like art, means drawing a line somewhere." ~ Oscar Wilde
When leaders play loose with truth, they make it more comfortable for everyone to do the same thing. When we see successful people getting away with untruths, we start telling our own lies. We call them "our perspective."
When there are no sanctions, why not? After the financial crisis of 2008, few leaders were punished; and many were let go with multi-million dollar compensation packages.
Dwindling confidence in what our leaders say has become the subject of late-night talk shows and comedy riffs. New terms for this abound: "alternate facts," and "fake news." This is of serious concern to anyone who seeks to make the world a better place.
It seems that power is often achieved by spinning the truth.
Have we become blasé? Is being honest less important than achieving what we want? It's time we look at ourselves as responsible for a truthful culture.
This article explores truth and dishonesty, and offers tips on how to influence honesty.
This is a brief synopsis of a 900 word article and 3 Article Nuggets*, suitable for consultants' newsletters for executives and leaders in organizations. It is available for purchase with full reprint rights, which means you may put your name on it and use it in your newsletters, blogs or other marketing materials. You may also modify it and add your personal experiences and perspectives.
The complete article includes these important concepts:
Everyone does it
A simple model of rational crime
The fudge factors
How we can influence honesty
————————————————————————————
Request This Content
Send us an email and let us know if you'd like to receive this article, Article Nuggets* or Newsletter (as applicable.) It is available in the following formats:
1. Is Truth Dead? – 900-word Article with Full Reprint Rights, $57

2. Is Truth Dead? – 3-Article Nuggets* with Full Reprint Rights, $64


*Article Nuggets: The same article broken up into 3-5 blog-style sections suitable for a series of blog posts or shorter newsletter articles.