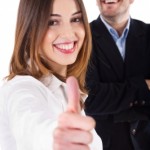 "So much of what we call management consists of making it difficult for people to do work." ~ Peter Drucker
As any fan of The Office can attest, negative managerial behavior severely affects employees' work lives. Managers' day-to-day and moment-to-moment actions also create a ripple effect, directly facilitating or impeding the organization's ability to function. (photostock / FreeDigitalPhotos.net)
The best managers recognize their power to influence and strive to build teams with great inner work lives. In The Progress Principle: Using Small Wins to Ignite Joy, Engagement, and Creativity at Work (Harvard Business Press, 2011), Teresa Amabile and Steven Kramer describe how people with great inner work lives have:
The worst managers undermine others' inner work lives, often unwittingly. Through rigorous analysis of nearly 12,000 diary entries provided by 238 employees at seven companies, Amabile and Kramer found surprising results on the factors that affect performance.
What matters most is forward momentum in meaningful work—in a word, progress. Managers who recognize the need for even small wins set the stage for high performance.
But surveys of CEOs and project leaders reveal that 95 percent fundamentally misunderstand the need for this critical motivator.
This article summarizes the ways to boost performance and facilitate progress, eliminating the effects of setbacks.
___________________________________________
This is a brief synopsis of an 1300 & 800-word article suitable for consultants' newsletters for executives and leaders in organizations. It is available for purchase with full reprint rights, which means you may put your name on it and use it in your newsletters, blogs or other marketing materials. You may also modify it and add your personal experiences and perspectives.
The complete 1300-word article includes these important concepts:
 What Really Motivates Us?
Facilitating Progress
Dealing with Setbacks
The Daily Progress Checklist
Discovering Your Inner Work Life
___________________________________________ 
If you are a Content for Coaches client and your account is current, no need to order. Send me an email to confirm that you wish to use this article for your next newsletter.
All others please use the order links below.
Order Links to purchase this article:
a.    Text, 1300-word Article with Full Reprint Rights, $79 –
        Inside the Mind at Work – Managing for Progress 1300-word article, reprint rights

b.    Text, 800-word Article with Full Reprint Rights, $57 –
         Inside the Mind at Work – Managing for Progress – 800-word article, reprint rights

c.     4 Article Nuggets, a series of blog-style content with Full Reprint Rights, $89 –
         Inside the Mind at Work – Managing for Progress – 4 Article Nuggets, blog-style, first-person
pronoun, links