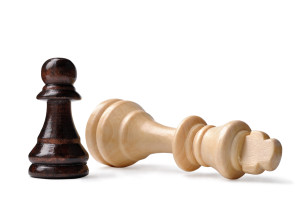 The attribute of leadership humility is not often celebrated in performance reviews, nor is it a part of leadership development programs. Maybe it should be.
We live in an era of self-celebration, and bravado announces our confidence. At work, ambitious people enthusiastically self-promote in order to be singled out for promotion and stretch positions.
Yet as professor of business psychology Tomas Chamorro-Premuzic says, "Bluster and the alpha instinct often get mistaken for ability and effectiveness." We have a large volume of evidence about the perils of hubris and, consequently, leadership failures.
Hubris is extreme pride and arrogance, and it occurs when those in power lose their connection to reality and vastly overestimate their capabilities. Its opposite – humility – inspires loyalty and productive team work. Jim Collins, in Good to Great, talks about remarkable CEOs who sustain success through leading quietly, not charismatically, and calls them Level 5 leaders.
A classic example of a Level 5 leader is an individual who blends extreme personal humility with intense professional will.  According to Collins' research study, executives who possess this seemingly paradoxical combination of traits are catalysts for the statistically rare event of transforming a good company into a great one.
This article explores personal humility and professional will, and offers tips on developing humility for personal growth, effective leadership and career success.
_________________________________
This is a brief synopsis of a 925-word article and 3 Article Nuggets*, suitable for consultants' newsletters for executives and leaders in organizations. It is available for purchase with full reprint rights, which means you may put your name on it and use it in your newsletters, blogs or other marketing materials. You may also modify it and add your personal experiences and perspectives.
The complete article includes these important concepts:
Personal Humility
Professional Will
How to Develop Leadership Humility
Six Ways to Express Leadership Humility
_­­­­­­­­­­­­­________________________________
If you are a Content for Coaches client and your account is current, no need to order. Send me an email to confirm that you wish to receive this article, Article Nuggets or Newsletter (as applicable.)
All others please use the order links below.
Order Links to purchase this article:
1.  In Praise of Humility – 925-word Article with Full Reprint Rights, $57


2.  In Praise of Humility – 3-Article Nuggets* with Full Reprint Rights, $64


*Article Nuggets: The same article broken up into 3-5 blog-style sections suitable for a series of blog posts or shorter newsletter articles.
Article by Patsi Krakoff, Psy.D.
Subscriptions of 6 and 12 articles are available. Save up to 45%. View options here.