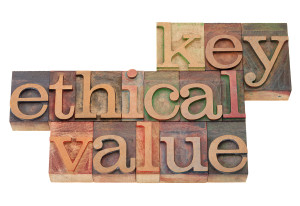 It can be extremely difficult to express your personal values at work, especially when confronted with questions of right vs. wrong. Issues become thornier when you're facing a choice between degrees of right vs. right.
Most of us want to bring our whole selves to work: our skills, ambitions and deeply held beliefs. We will inevitably encounter values conflicts during our careers, particularly when our goals and ideals clash with clients', peers', bosses' and organizational expectations.
Past attempts at preparing business leaders to act ethically often failed — not because they couldn't distinguish right from wrong, but because they didn't know how to act on their values amid opposing pressures.
Many people believe blowing the whistle won't do any good. And how can they effectively object without assuming personal risk?
Some of us also struggle with framing objections in a rational way, without assuming the role of "morals police." We simply lack practice in holding values-based discussions.
This article explores values-based conflict and offers techniques and questions to help you identify alternative solutions and voice your values.
_________________________________
This is a brief synopsis of a 775-word article and Article Nuggets*, suitable for consultants' newsletters for executives and leaders in organizations. It is available for purchase with full reprint rights, which means you may put your name on it and use it in your newsletters, blogs or other marketing materials. You may also modify it and add your personal experiences and perspectives.
The complete article includes these important concepts:
Giving Voice to Values
Developing Effective Scripts
Preserving Rationality
————————————————————————————
Request This Content:
Send us an email and let us know if you'd like to receive this article, Article Nuggets* or Newsletter (as applicable.) It is available in the following formats:
1.  How to Voice Your Values– 775-word Article with Full Reprint Rights, $57

2.  How to Voice Your Values–  3-Article Nuggets* with Full Reprint Rights, $64

*Article Nuggets: The same article broken up into 3-5 blog-style sections suitable for a series of blog posts or shorter newsletter articles.