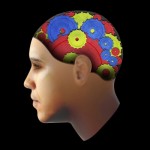 Let's face it: You're getting older, and work isn't getting any easier. If being asked to do more with less isn't enough, advanced technology and a rapidly changing marketplace mean you must stay sharp to remain a competitive asset to your customers and bosses.
How can you maintain your edge?
"You won't know what your brain can do until you test its limits and push beyond them. No matter how inefficiently you are using your brain, one thing is certain: It is the gateway to your future." ~ Rudolph E. Tanzi and Deepak Chopra, Super Brain: Unleashing the Explosive Power of Your Mind to Maximize Health, Happiness and Spiritual Well-Being (Harmony Books, 2012)
While it would be nice to have a magic performance pill, your brain and behaviors ultimately matter most, playing key roles in maintaining health and wellness. As with physical-fitness programs, today's high-potential leaders are focusing on brain fitness.
But widespread media coverage leaves many people confused about brain science:
Do crossword and Sudoku puzzles really enhance brain fitness?
Do blueberries and bananas offer adequate protection? What about nutritional supplements?
Why are jogging and sleep good for the brain?
Do specific computer games train the brain?
This article explores brain fitness and the nine categories of healthy brain activities, and suggests nine activities for boosting brain power.
__________________________________________________________
This is a brief synopsis of an 850-word article and Article Nuggets,*suitable for consultants' newsletters for executives and leaders in organizations. It is available for purchase with full reprint rights, which means you may put your name on it and use it in your newsletters, blogs or other marketing materials. You may also modify it and add your personal experiences and perspectives.
The complete article includes these important concepts:
Brain Fitness

Emotional Self-Regulation
Cognitive Skills
Processing Speed
Visual Spatial Relationships
Boosting Brain Power
————————————————————————————
Request This Content:
Send us an email and let us know if you'd like to receive this article, Article Nuggets* or Newsletter (as applicable.) It is available in the following formats:
1.    How to Improve Your Brain at Work – 850-word Article with Full Reprint Rights, $57 –

2.   How to Improve Your Brain at Work – 3 Article Nuggets* with Full Reprint Rights,  $64 –
Photo courtesy freedigitalphotos.net
*Article Nuggets: The same article broken up into 3-5 blog-style sections suitable for a series of blog posts or shorter newsletter articles.