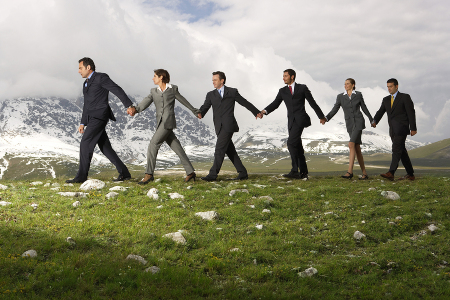 Look at today's top-performing companies, and you'll inevitably find a high degree of employee engagement. From frontline workers to CEOs, people are passionate about their companies' purpose, values and mission.
Most workers are motivated to give their best and often go beyond what's required. Some are lucky enough to work for companies that are consistently designated a "best place to work."
But for countless other organizations, only 20% of employees say they're excited about work. They show up to earn a paycheck. At most, they aim to achieve personal success and climb the promotion ladder.
In the first workplace, people are passionate. In the latter, they're looking out for themselves, with management struggling to realize performance goals. We can attribute the difference to organizational factors like hierarchy, processes, incentives and, often, personalities.
But the real culprit may be leaders' failure to ignite passion.
"To put it bluntly, the most important task for any manager today is to create a work environment that inspires exceptional contribution and that merits an outpouring of passion, imagination and initiative." ~ Gary Hamel, What Matters Now: How to Win in a World of Relentless Change, Ferocious Competition, and Unstoppable Innovation (Jossey-Bass, 2012)
This article explores how great leaders ignite passion in their people to give extraordinary performance and achieve stellar results.
This is a brief synopsis of a 1,600-word and a 900-word article and 5 Article Nuggets*, suitable for consultants' newsletters for executives and leaders in organizations. It is available for purchase with full reprint rights, which means you may put your name on it and use it in your newsletters, blogs or other marketing materials. You may also modify it and add your personal experiences and perspectives.
The complete article includes these important concepts:
Passion principles
Passion starts with purpose
Purpose and passion
Hire for passion
Recognize and reinforce passion
Company culture, events and team projects
Linking passion to performance
Leadership tips for sparking passion
————————————————————————————
Request This Content
Send us an email and let us know if you'd like to receive this article, Article Nuggets* or Newsletter (as applicable.) It is available in the following formats:
How Great Leaders Ignite Passion – 1,600-word Article with Full Reprint Rights, $79
How Great Leaders Ignite Passion – 900-word article with Full Reprint Rights, $57
How Great Leaders Ignite Passion – 5-Article Nuggets* with Full Reprint Rights,  $89
*Article Nuggets: The same article broken up into 5 blog-style sections suitable for a series of blog posts or shorter newsletter articles.