"In my fifty-two years in business, I've never seen an issue galvanize people in a company like sustainability." Ray Anderson, founder of Interface, Inc.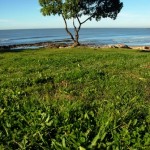 Sustainability is at the very core of survival. No company or society can last unless it cares for its resources and capital — human, financial and environmental. (Photo: Shutterstock)
Consumers are going green. Their support for sustainable products and practices is growing worldwide. Some companies are wondering if now's the time to adopt sustainability practices as part of their corporate strategy.
In the most basic terms, greening a business is about doing more with less, which can quickly save you money. Going green also means overcoming several mental hurdles, foremost of which is the expense involved in embracing environmental practices.
It's a mistake to believe that becoming eco-friendly means unnecessary expenses as we face a global economic slump. Many experts assert that organizations should meet financial challenges by turning sustainability into innovation's new frontier.
In fact, becoming eco-friendly will soon be a necessary cost of doing business. It's no longer enough to meet minimum legal compliance for environmental standards. A true competitive advantage lies in influencing economic recovery with forward-thinking sustainability practices.
People at all corporate levels must focus on the following keys:
Understand what climate change means for business (which is very different from everyone agreeing on the science).
See the long-term constraints in natural resources and nonrenewable energy.
View the business in the context of the full value chain, from suppliers to customers and beyond.
———————————————-
This is a brief synopsis of a 2000 & 1000-word article suitable for consultants' newsletters for executives and leaders in organizations. It is available for purchase with full reprint rights, which means you may put your name on it and use it in your newsletters, blogs or other marketing materials. You may also modify it and add your personal experiences and perspectives.
The complete 2,000 word article includes these important concepts:
• Corporate Social Responsibility vs. Bottom Line
• Stage 1: Viewing Compliance as Opportunity
• Stage 2: Making Value Chains Sustainable
• Stage 3: Designing Sustainable Products and Services
• Stage 4: Developing New Business Models
• Stage 5: Creating Next-Practice Platforms
• Green Recovery
• Green Engagement
• Green Thinking
• Green Hiring
————————————————————————————
Request This Content:
Send us an email and let us know if you'd like to receive this article or Newsletter (as applicable.) It is available in the following formats:
a. Going Green, 2000-word Article with Full Reprint Rights, $79 –
b. Going Green, 1000-word Article with Full Reprint Rights, $57 –