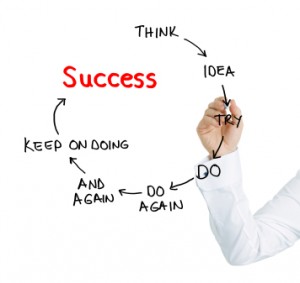 Find a job you love and you'll never work a day in your life. ~ Confucius
At graduation, each of us has visions of what we'll accomplish. Years later, even the best and brightest from the most prestigious universities aren't immune to feelings of failure and disappointment.
Many people who maintain a veneer of professional success report feeling dissatisfied and doubt they're in the right job. They often find themselves trapped in meaningless work. (photo courtesy freedigitalphotos.net)
The cliché holds true: You have only one life, and it's not a dress rehearsal. Outside forces and bad decisions can derail you at any time. How can you protect yourself from making the wrong career moves — the ones that thwart your quest for happiness and meaning?
Clayton Christensen, author of How Will You Measure Your Life? (with coauthors James Allworth and Karen Dillon), writes:
We pick our jobs for the wrong reasons and then we settle for them. We begin to accept that it's not realistic to do something we truly love for a living.
This 850- word article explores how to find true meaning and fulfillment through the best career decisions, choosing a strategy for living in alignment with what matters most.
 ____________________________________
This is a brief synopsis of a 850-word article and Article Nuggets,* suitable for coach newsletters and blog posts. It is available for purchase with full reprint rights, which means you may put your name on it and use it in your newsletters, blogs or other marketing materials. You may also modify it and add your personal experiences and perspectives.
The full article talks about:
Strategic Living
Motivational Theory
————————————————————————————
Request This Content:
Send us an email and let us know if you'd like to receive this article, Article Nuggets* or Newsletter (as applicable.) It is available in the following formats:
      1.   Finding Career Satisfaction  – 850-word Article with Full Reprint Rights, $57 –
      2.  Finding Career Satisfaction  – 3 Article Nuggets* with Full Reprint Rights, $64 –
*Article Nuggets: The same article broken up into 3 blog-style sections suitable for a series of blog posts or shorter newsletter articles, with links and personal pronoun "I."