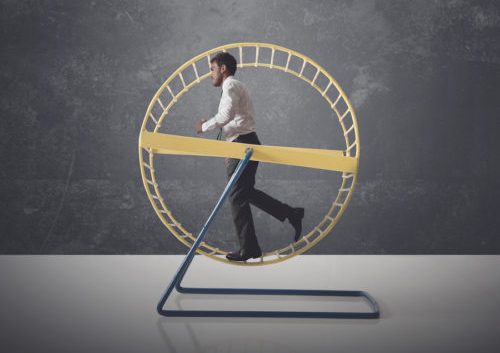 Most corporate cultures place a high value on accomplishment and productivity, which explains why so many compulsive, driven leaders rise to executive positions.  The business landscape is filled with leaders who, while bent on achieving success, present difficulties for the people who work for them.
While compulsive leaders can claim credit for myriad workplace advancements, their obsession with tasks and goals contributes to employee dissatisfaction and disengagement. If you report to a compulsive leader, you likely experience mixed feelings over completing great work vs. bearing the pain that comes with it.
Leaders with compulsive tendencies focus on tasks, checklists and goals to produce the fastest and best results, win battles, maximize success and gain favor. Their insistence on hard work and achievement overshadows people's needs, suggests Beatrice Chestnut, PhD, in The 9 Types of Leadership: Mastering the Art of People in the 21st Century Workplace (Post Hill Press, 2017).
These negatives can clearly put an organization in a poor position for long-term success. Working through these issues and reframing their mindset can help compulsive leaders recognize trouble spots and potential remedies.
This article explores the unique challenges of compulsive leaders and offers introspective questions for healthier and more productive behavior.
This is a brief synopsis of a 1,800-word and a 1,000-word article and 5-Article Nuggets*, suitable for consultants' newsletters for executives and leaders in organizations. It is available for purchase with full reprint rights, which means you may put your name on it and use it in your newsletters, blogs or other marketing materials. You may also modify it and add your personal experiences and perspectives.
The complete article includes these important concepts:
Are you compulsively driven?
The pros and cons of compulsiveness
The signs of a compulsive leader
The compulsive mindset
Blind spots
Counsel for compulsive leaders
Working for a compulsive leader
————————————————————————————
Request This Content
Send us an email and let us know if you'd like to receive this article, Article Nuggets* or Newsletter (as applicable.) It is available in the following formats:
Compulsive Leaders Pose Unique Challenges – 1,800-word Article
with Full Reprint Rights, $79
Compulsive Leaders Pose Unique Challenges – 1,000-word article
with Full Reprint Rights, $57
Compulsive Leaders Pose Unique Challenges – 5-Article Nuggets*
with Full Reprint Rights, $89
*Article Nuggets: The same article broken up into 5 blog-style sections suitable for a series of blog posts or shorter newsletter articles.