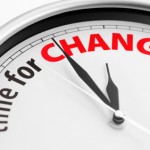 It doesn't matter whether your goal is to lose 5 or 50 pounds, quit smoking or stop drinking. New Year's resolutions and other goals are hard to keep beyond the first month. Change is hard.
Why? Because the brain is tricky. No matter how sincerely we want to break a habit, we have an inherent immunity to change.
This means we're physiologically "lured" into doing what we've always done, no matter how strong our intentions. And yet, some people do succeed. We all know ex-smokers, ex-drinkers and former fatties.
You cannot fix an adaptive problem with a technical solution. A diet, for example, is a technical solution to being overweight: To lose weight, eat less and exercise more. But the problem is much more complex. Unless you change your mindset (an adaptive solution), you won't sustain new habits.
Einstein said that how you formulate a problem is just as critical as how you solve it. One of the biggest mistakes goal-setters make is applying a technical solution to an adaptive problem. It doesn't matter how much you change what you do. If you don't shift the way you think, you'll revert to doing things as you've always done them.
This 825-word article provides a grid for viewing your goals alongside your competing commitments so you can override resistance to change.
This is a brief synopsis of an 825-word article and Article Nuggets* suitable for consultants' newsletters for executives and leaders in organizations. It is available for purchase with full reprint rights, which means you may put your name on it and use it in your newsletters, blogs or other marketing materials. You may also modify it and add your personal experiences and perspectives.
————————————————————————————
Request This Content:
Send us an email and let us know if you'd like to receive this article, Article Nuggets* or Newsletter (as applicable.) It is available in the following formats:
1.    Competing Commitments – 825-word Article with Full Reprint Rights, $57 –
2.   Competing Commitments – 3-Article Nuggets* with Full Reprint Rights,  $64 –
*Article Nuggets: The same article broken up into 3 blog-style sections suitable for a series of blog posts or shorter newsletter articles.