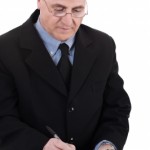 Baby Boomers are lingering in the workplace. Economic uncertainty has caused many to remain on the job.
The younger Gen X and Gen Y are growing impatient to ascend to leadership responsibilities, and new graduates are knocking at HR's door in record numbers.
Until we see the inevitable changing of the guard over the next decade, the workplace will be inhabited by a multigenerational stew. Learning how to work, live and play together is crucial.
Baby Boomers occupy most positions of power and responsibility on organizational charts. Most of today's corporate management practices still reflect the systems and values of their predecessors, the veterans.
Gen Xers and Millennials aren't interested in "the way things have always been done." Rather, they're single-mindedly focused on what it takes to reach their perceived career destination.
This group shuns past definitions of success: climbing the company ladder and earning the rewards that come with greater responsibility. The company ladder, in their view, is irrelevant.
This article summarizes the four main ways generations differ at work, a must-read at any age.
________________________________________________________________________________
This is a brief synopsis of an 1800 & 900-word article suitable for consultants' newsletters for executives and leaders in organizations. It is available for purchase with full reprint rights, which means you may put your name on it and use it in your newsletters, blogs or other marketing materials. You may also modify it and add your personal experiences and perspectives.
The complete 1800-word article includes these important concepts:
Who Are the Generations?
How Are They Different?
Clash Point #1: How We View Work
Clash Point #2: Communications
Clash Point #3: Meetings
Clash Point #4: Learning
Issues You Can't Ignore
————————————————————————————
Request This Content:
Send us an email and let us know if you'd like to receive this article, Article Nuggets* or Newsletter (as applicable.) It is available in the following formats:
a.   Text, 1800-word Article with Full Reprint Rights, $79 –
      Clash Points at Work: Geeks and Geezers – 1800-word article, reprint rights
b.   Text, 900-word Article with Full Reprint Rights, $57 –
       Clash Points at Work: Geeks and Geezers – 900-word article, reprint rights
c.   5 Article Nuggets, a series of blog-style content with Full Reprint Rights, $89 –
      Clash Points at Work: Geeks and Geezers  – 5 Article Nuggets, blog-style,
first-person pronoun, links
*Article Nuggets: The same article broken up into 3-5 blog-style sections suitable for a series of blog posts or shorter newsletter articles.