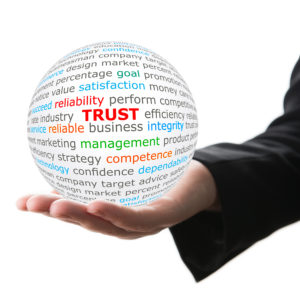 Many leaders are unaware of how their lack of authenticity chips away at people, breeding dissatisfaction, distrust and disloyalty. Organizational effectiveness and productivity suffer when workers view leaders as inauthentic.
One out of three people distrusts his or her employer, according to the 2017 Edelman "Trust Barometer." Four out of five don't see authenticity in their leaders' performance. When only 20 percent of leaders come across as genuine, they risk handicapping their organizations with insufficient influence, poor worker engagement and, ultimately, disappointing corporate results.
People want to be led well. They want assurance that their best interests are important and that their future is in safe hands. They need to believe their leaders will make sound, effective decisions. Inauthentic leaders destroy employee confidence.
The Real Deal
Authenticity is an emotionally vital state of well-being for employees—one that heavily relies on a leader's consistent trueness, explains consultant Karissa Thacker in The Art of Authenticity (Wiley, 2016). The best leaders undergo continual self-assessment and improvement to convert habitual behaviors into authentic ones.
You owe it to yourself and your people to continually refine your character and insights, as well as think and respond in credible, authentic ways. Work toward making effective decisions and powerful impressions that draw your people into an engaging and productive unity you never thought possible.
This article explores the traits of authentic leaders and suggests five behaviors that successful leaders practice to be the authentic leader people need.
This is a brief synopsis of a 1,300-word and a 900-word article and 5 Article Nuggets*, suitable for consultants' newsletters for executives and leaders in organizations. It is available for purchase with full reprint rights, which means you may put your name on it and use it in your newsletters, blogs or other marketing materials. You may also modify it and add your personal experiences and perspectives.
The complete article includes these important concepts:
Leadership mandates for authenticity:
The real deal

Be self-aware
Earn respect
Connect
Convey credibility
Earn trust
————————————————————————————
If you are a Content for Coaches client and your account is current, no need to order. Send us an email to confirm that you wish to receive this article, Article Nuggets* or Newsletter (as applicable.)
All others please use the order links below.
Order Links to purchase this article:
Be the Authentic Leader Your People Need – 1,300-word Article with Full Reprint Rights, $79


Be the Authentic Leader Your People Need – 900-word article with Full Reprint Rights, $57


Be the Authentic Leader Your People Need – 5-Article Nuggets* with Full Reprint Rights,  $89


*Article Nuggets: The same article broken up into 5 blog-style sections suitable for a series of blog posts or shorter newsletter articles.
Subscriptions of 6 and 12 topics are available. Save up to 45%. View options here.