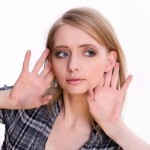 Why do we admire celebrities like Oprah Winfrey, Katie Couric, Diane Sawyer and Bill Clinton?
They make you feel like you're the most important person in the room.
They excel at listening—a skill that separates great personalities from the near-great. (photo courtesy Michal Marcol / FreeDigitalPhotos.net)
When you meet Clinton for the first time, he says something positive to acknowledge you. His listening skills are laser-focused on the person he's with. We spend 80 percent of our waking time on four communications tasks:
Reading
Writing
Speaking
Listening
While listening accounts for 50 percent of our communications, we pay little attention to this important process and tend to take it for granted. We erroneously assume that listening is a passive activity and that everyone knows how to listen.
In fact, most of us find it hard to maintain the prolonged concentration required for truly effective listening. To be a good listener, you need to adopt proactive habits.
This article provides suggestions on how to become a better listener.
__________________________________________________________
This is a brief synopsis of an 800-word article and Article Nuggets,*suitable for consultants' newsletters for executives and leaders in organizations. It is available for purchase with full reprint rights, which means you may put your name on it and use it in your newsletters, blogs or other marketing materials. You may also modify it and add your personal experiences and perspectives.
The complete article includes these important concepts:
Listening, but Not Hearing
Why Don't We Listen?
Test Your Listening Skills
9 Keys to Better Listening
————————————————————————————
Request This Content:
Send us an email and let us know if you'd like to receive this article, Article Nuggets* or Newsletter (as applicable.) It is available in the following formats:
1.    Be A Better Listener, 800-word Article with Full Reprint Rights, $57 –

2.   Be A Better Listener, 3 Article Nuggets* with Full Reprint Rights,  $64 –
*Article Nuggets: The same article broken up into 3 blog-style sections suitable for a series of blog posts or shorter newsletter articles.