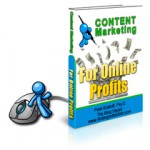 You may have heard that Content Marketing is the "way to go" when it comes to marketing your professional services on the Web. But what does that really mean?
And, once you publish a website or a blog with plenty of content pages, or an e-newsletter, how does that content work to get you and your business found on the Web, get leads, and convert readers to clients?
If you're a busy executive coach, someone providing  leadership training and development, you'll need to learn a few things about online marketing, just to keep in the game. And the Internet "game" changes so quickly, how do you know what to do and what to ignore, with all the new social media sites and online tools?
I hope to  cut short the Web marketing learning curve with this online ebook, Content Marketing for Online Profits. All you need to do to get access to this important information is to register here. It's completely free.
Included in the final chapter is a Content Marketing Survey about content marketing and blogging, that I know you'll find helpful, since you'll be given a personalized assessment of your own content marketing needs.
Go ahead and register to access this online ebook, then tell me what you think. I'd love to get your feedback.