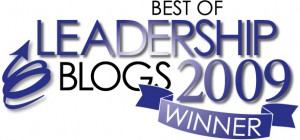 One of the best ways to improve your marketing efforts is to watch and read what others are doing online. But this can be confusing, since promoting your executive coach services isn't the same as selling cars, or real estate or even life coaching.
How are the top people in your industry marketing? Since the many top coaches work primarily through word of mouth and referrals, you can't always model what they do. But the smart ones supplement their referrals with a strong online presence.
Fortunately, Kevin Eikenberry has done the foot work for us, and highlighted the Best Leadership Blogs for 2009. Read what these people have to say on their blogs, and then model your own blogs after them. You'll still have to develop your own writing style and let your personality come through, but these leadership bloggers have already established  methods that work for them.
Here's the list from Kevin Eikenberry's Best Leadership Blogs for 2009:
We are pleased to announce All Things Workplace by Steve Roesler as the winner of the third annual Best of Leadership Blogs Competition!
Here are the other nine finalist blogs.  Even though they didn't win, all are truly outstanding and worth your time to read!
Leadership is a Verb by John Bishop
LeaderTalk by Becky Robinson
Jon Gordon's Blog
Leading Blog by Michael McKinney
Next Level Blog by Scott Eblin
Seth Godin's Blog
Work Matters by Bob Sutton
Leadership at Work by John Baldoni
Great Leadership by Dan McCarthy
If you're having trouble keeping up with your blogging, and aren't getting the results you deserve, let me know. I do blog-makeovers and can help you. At a minimum, you'll want to download this free report, recently revised: Content Marketing with Blogs.
(Some people have trouble downloading using Internet Explorer as their Web browser. It works for sure using Firefox, which is a much better Web browser anyway. Until I can get this issue resolved, use Firefox.)