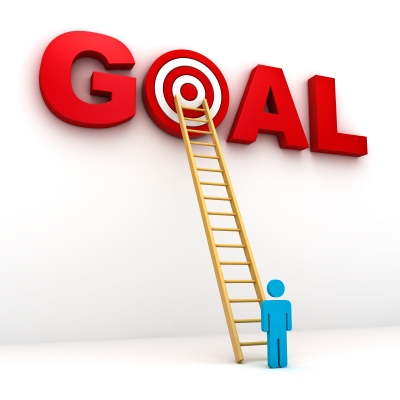 "Goals are one of the most misused and abused concepts in business and life today. Quite often, they're set but not met, or set without providing realistic aims and/or equipment to achieve them. As a result, goal outcomes are often lowered until they are met or scrapped entirely in favor of new ones; …and the fruitless goal cycle begins anew."~ Michael J. Burt and Colby B. Jubenville, PhD, Zebras & Cheetahs: Look Different and Stay Agile to Survive the Business Jungle (Wiley, 2013)
 Setting a Big Hairy Audacious Goal (BHAG) can seem exciting and energizing.
First proposed by Jim Collins and Jerry I. Porras in Built to Last: Successful Habits of Visionary Companies (HarperBusiness, 2004), the term refers to a visionary goal that's emotionally compelling.
A great BHAG drives us to realize achievements that exceed our expectations. It facilitates focus, concentration and the ability to ignore distractions. In simple terms, BHAGs help make our dreams come true.
But without proper exploration, planning and prioritizing, you may end up setting the wrong goal — one that can lead to disappointment, disillusionment, and a drain on energy and motivation. This type of failure makes it hard to start over again.
This article explores the key elements of great goals and goal setting, and suggests pre- and post-goal setting exercises and tools to make your goals more effective. 
________________________________
This is a brief synopsis of a 780-word article and Article Nuggets*, suitable for consultants' newsletters for executives and leaders in organizations. It is available for purchase with full reprint rights, which means you may put your name on it and use it in your newsletters, blogs or other marketing materials. You may also modify it and add your personal experiences and perspectives.
The complete article includes these important concepts:
Make SMARTER Goals
Online Goal-Tracking Programs
Are Your Goals Incomplete?
————————————————————————————
Request This Content:
Send us an email and let us know if you'd like to receive this article, Article Nuggets* or Newsletter (as applicable.) It is available in the following formats:
1.  Set a Big Hairy Audacious Goal – 780-word Article with Full Reprint Rights, $57–

2.  Set a Big Hairy Audacious Goal –  3-Article Nuggets* with Full Reprint Rights,  $64–

*Article Nuggets: The same article broken up into 3-5 blog-style sections suitable for a series of blog posts or shorter newsletter articles.
Photo courtesy freedigitalphotos.net.