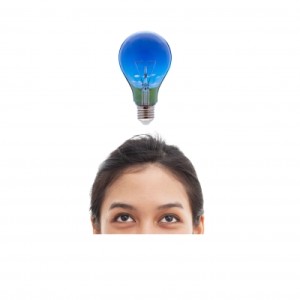 Creativity is something you practice, not just a talent you're born with. ~ Tom Kelley and David Kelley, IDEO
According to a global IBM survey of chief executives, creativity is the most sought-after trait in leaders today.
Without continual breakthroughs, Facebook, Google, Apple, Procter & Gamble and General Electric couldn't sustain success. 
It starts with an innovation mindset. Creativity isn't something that's learned, as much as rediscovered. Most people are born creative. Just look at children to see how naturally they use their imaginations. But somewhere around adolescence, we begin to stifle our creative impulses as we become more aware of what other people think.
We learn to be more cautious and analytical. This tendency becomes even more pronounced as we join organizations that favor critical thinking. As we become mature contributors to corporate culture, we are continually rewarded for our analytical abilities.
Creative thinking takes a backseat, except in breakthrough situations. But you cannot achieve such innovations unless your company's culture supports new ideas—even those that fail.
In "Reclaim Your Creative Confidence" (Harvard Business Review, December 2012), Tom Kelley and David Kelley of IDEO identify four common fears that block our best ideas from coming to fruition:
The messy unknown
Being judged
Taking the first step
Losing control
This article explores why creative thinking gets stifled, the four fears that block good ideas, and suggests steps for improving innovative success.
(photo courtesy freedigitalphotos.net)
__________________________________________________________
This is a brief synopsis of a 1800-word article and Article Nuggets,*suitable for consultants' newsletters for executives and leaders in organizations. It is available for purchase with full reprint rights, which means you may put your name on it and use it in your newsletters, blogs or other marketing materials. You may also modify it and add your personal experiences and perspectives.
The complete article includes these important concepts:
Fear of the Messy Unknown
Fear of Being Judged
Fear of Taking the First Step
Fear of Losing Control
Focus on the Future
Disruptive Innovation
The Challenge for Executives
————————————————————————————
Request This Content:
Send us an email and let us know if you'd like to receive this article, Article Nuggets* or Newsletter (as applicable.) It is available in the following formats:
a.    Rekindle Your Creative Thinking – 1,800-word Article with Full Reprint Rights, $79 –

b.    Rekindle Your Creative Thinking  – 880-word Article with Full Reprint Rights, $57 –

c.    Rekindle Your Creative Thinking  – 5-Article Nuggets* with Full Reprint Rights, $89 –
*Article Nuggets: The same article broken up into 3-5 blog-style sections suitable for a series of blog posts or shorter newsletter articles.