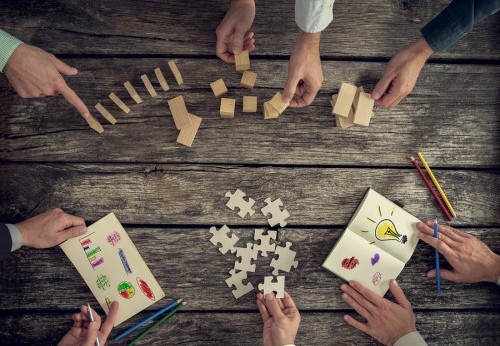 Are you using your brain to its optimum capacity? What thinking skills should you develop? A recent article in Harvard Business Review proclaims that successful organizations of the future will place a premium on our thinking skills.
"… in today's marketplace, the smartest companies aren't those that necessarily out-produce the competition. Instead, it's the organizations that outthink them." ~ Mark Bonchek and Elisa Steele, Harvard Business Review, "What Kind of Thinker Are You?"
Not everybody approaches a problem or a decision in the same way. Understanding your thinking style and those of your co-workers helps teams collaborate more effectively.
You can improve your thinking skills, prevent brain fog, and increase your creativity, efficiency and productivity.
If you're primarily a right-brained thinker (creative, non-linear) you can improve your abilities to use your left brain (rational, logic). Since none of us operate solely or completely using one side of the brain, you will gain perspective when you use more of the whole brain.
It starts with awareness. How conscious are you of how you approach a problem? How observant are you of other people's thinking processes? The more observant you become of your mental processes, the more of your brain you'll be using.
This article suggests methods and exercises to improve your thinking skills through mental awareness, brain fitness, whole brain exercises and focus.
This is a brief synopsis of an 850 word article and 3 Article Nuggets*, suitable for consultants' newsletters for executives and leaders in organizations. It is available for purchase with full reprint rights, which means you may put your name on it and use it in your newsletters, blogs or other marketing materials. You may also modify it and add your personal experiences and perspectives.
The complete article includes these important concepts:
Mental awareness
Brain fitness: Keeping sharp at work
Whole brain exercises
Brain fitness: The lost art of single tasking
_­­­­­­­­­­­­­________________________________
If you are a Content for Coaches client and your account is current, no need to order. Send me an email to confirm that you wish to receive this article, Article Nuggets or Newsletter (as applicable.)
All others please use the order links below.
Order Links to purchase this article:
 1.  Improve Your Thinking Skills – 850-word Article with Full Reprint Rights, $57

2.  Improve Your Thinking Skills – 3-Article Nuggets* with Full Reprint Rights, $64


*Article Nuggets: The same article broken up into 3-5 blog-style sections suitable for a series of blog posts or shorter newsletter articles.
Article by Patsi Krakoff, Psy.D.
Subscriptions of 6 and 12 articles are available. Save up to 45%. View options here.